Winnie The Pooh: Blood And Honey Has Screened, See What People Are Saying About The Wild Horror Movie
The movie might not be an Academy Awards contender, but it sounds like a lot of fun.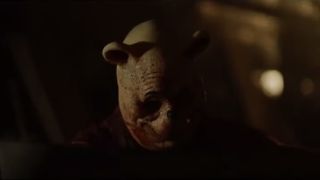 (Image credit: ITN Studios and MovieCompany)
Who doesn't love seeing their favorite childhood cartoon character brought to the big screen in live-action? The last time Pooh Bear got the live-action silver screen treatment was in 2018's Christopher Robin. Well, the loveable huggable bear is headed back to cinemas, but not in the way you'd probably imagine. This time, Pooh is thirsty for more than honey; he's craving blood (see the violent trailer that sent the internet into a tizzy). Winnie The Pooh: Blood and Honey, which reimagines everybody's favorite honey-eating bear as a psychotic slasher, has finally screened, and you can see what people are saying about the wild horror movie.
The British independently produced Winnie the Pooh: Blood and Honey, written, directed, and co-produced by Rhys Frake-Waterfield, which hit US cinemas on February 15th, and the word from horror fans exiting the theater seems to be that it's good dumb fun. YouTuber and musician Eric Butts posted to his Twitter an enthusiastic first reaction video where he called the movie "legit" and a "great time." You can see his video review below.
Wow! #WinnieThePoohBloodandHoney had no right being that much fun, but it was!! Bring on the sequel!#MutantFam #HorrorMovies pic.twitter.com/MCzBHzjaEAFebruary 16, 2023
Another user and podcaster by the username @anthonydapuzzo said the movie wasn't good, but they had a good time and enjoyed the mean-spirited nature of the film. Anthony also made it clear that not if, but when, a sequel happens, they are "down."
#WinnieThePoohBloodandHoney is not good but I enjoyed it for what it was damn it haha. Love how mean spirited & nasty it got. Some impressive sequences for such a low budget & a few badass money shots of Pooh. It's dumb & the 3rd act drags but I'm down for a sequel! 🍯🐝🩸🔪 pic.twitter.com/KCYWjln8JJFebruary 16, 2023
Twitter user Bryant Lowery said the movie-going experience was humbling because it was far worse than they could have imagined. Of course, they hilariously gave the movie a 10 out of 10. It sounds like Blood and Honey might be straddling so bad it's good territory.
I was humbled by this movie… it was so much worse and insane than I could have ever imagined it would be. 10/10 will watch again- #WinnieThePoohBloodandHoney pic.twitter.com/VHJL6R1nDnFebruary 16, 2023
A horror movie reviewer named C-Man was impressed by how good the micro-budget film was. The reviewer said the movie has solid scares and laughs and praised the movie's music.
I'm going to be honest w/you #WinnieThePoohBloodAndHoney had no business being this fun! #PoohBear & #Piglet both work as slasher leads & when they're not being terrifying this movie is be flat out funny & enjoyable. Also 1 of the best scores of the year! https://t.co/Am2s9cXGHcFebruary 16, 2023
One horror fan praised the film by comparing it to two of 80's greatest slashers to grace the cinema. MrVorhees13 said the movie had them in stitches, reminding them of a cross between Friday the 13th and Halloween.
just saw #WinnieThePoohBloodandHoney it just made me laugh. literally felt like a mix of Friday the 13th and Halloween. kills were pretty decent. 6/10 pic.twitter.com/IInod684GVFebruary 16, 2023
Of course, not everyone was as positive about the flick. Another Twitter user said the characters in the movie were dumber than one would expect, even for a slasher film.
I feel like the characters in this horror movie were dumber than usual 😂😂, at multiple points they were so close to the killer & said pretty fckn loud "I don't think he saw us" - yeah maybe not but he probably fckn heard you (or should've) #WinnieThePoohBloodandHoney pic.twitter.com/qbMEw8MggfFebruary 16, 2023
While horror aficionados might love the camp of Winnie the Pooh: Blood and Honey, there is quite a disconnect between the movie and film critics. The movie currently sits at a meager 14% on Rotten Tomatoes, with Variety film critic Dennis Harvey calling it "A rock-bottom joint that fails to meet even the most basic expectations set up by its conceptual gimmick." Ouch.
Horror, especially slashers, has a long history of being misunderstood by film critics. Famed movie reviewers Gene Siskel and Roger Ebert railed against the rise of slashers in the 80s. So, a low rotten tomato meter shouldn't be a surprise when it comes to a slasher spin on a beloved children's icon. Horror fans should keep sight of the reasonably high audience rating (it has a 60% as of this writing) and the positive word of mouth from moviegoers. At the very least, audiences are having a good time with the rampaging Pooh and Piglet.
How about you? Are you as excited as these early reviewers are for a campy slasher featuring two of the most iconic children's literary characters as bloodthirsty killers? Do you hate this new trend of seeing beloved characters used in horror movies? No matter how you feel about Winnie the Pooh: Blood and Honey, horror movie takes on kid franchises is a current fad that doesn't seem to be ending anytime soon. A scary take on the Grinch was recently released, and horror versions of Bambi and Peter Pan are in pre-production by the same team of filmmakers behind Blood and Honey.
If there are any updates regarding upcoming childhood characters turned horror slashers, CinemaBlend will update you. Until then, check out our list of upcoming horror movies, or if you're looking for something less scary, our 2023 new movie releases to plan your next trip to the cinema.
Your Daily Blend of Entertainment News
Ryan graduated from Missouri State University with a BA in English/Creative Writing.