Winnie The Pooh Is Getting A Live-Action Movie, Get The Details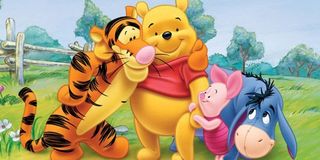 The current trend over at Disney to reinvent its vast library of classic animated features as live-action movies is continuing with yet another property, Winnie the Pooh. Yes, it appears that the titular "bear of very little brain" that's "stuffed with fluff" will commence his insatiable quest for honey for the very first time in a live-action capacity.
According to a report by Deadline, Disney is moving forward with the live-action Winnie the Pooh, however, there will be a major twist this time, as it will depict the story's implied muse, Christopher Robin, as an adult who seeks out Pooh Bear and the rest of his stuffed childhood buddies.
They've also hired Alex Ross Perry to pen the script. A rather deep choice, Perry is probably best known as writer/director for indie efforts like Listen Up Phillip and the recent Queen of Earth. The selection of a talent who's generally unknown to the mainstream, like Perry, may seem like a bizarre choice for a children's property as iconic as Winnie the Pooh, which just saw an update with a widely released 2011 animated feature. Yet, there is a method to the facade of madness.
The key aspect of this film lies in its plans to depict an adult Christopher Robin rediscovering the childhood which brought A.A. Milne's bright, sunny, clumsily whimsical world in Hundred Acre Wood to life. Thus, the story alteration reveals some deliberately demographic-centric plans to broaden the appeal of the Pooh Bear property, to possibly create a happy medium where the film speaks to both the traditional targeted audience of children as well as the adults who bring their kids to the theater.
Of course, the film won't be alone in this type of mature live-action reinvention, with Cinderella, Maleficent, and Snow White and the Huntsman, and even Tim Burton's upcoming rendition of Dumbo, being recent genre examples. Yet, in the case of Winnie the Pooh, Disney's hiring of a relatively unknown visionary like Alex Ross Perry seems to parallel the strategy used with their upcoming live-action rendition of Pete's Dragon, which sees a similarly uncharacteristic talent in David Lowery, the mastermind behind the dark thriller, Ain't Them Bodies Saints, handle the update of the innocent tale of a young boy who befriends a giant green and purple dragon.
The idea of a more "mature" rendition of Winnie the Pooh, which began with Milne's 1926 book and seriously took off in 1966, which saw the beginning of a vast array of iconic animated features, sounds intriguing. While cartoons and children's movies have always been lucrative, they are contemporarily more sophisticated, carrying themes that appeal to children, but are also mature enough to be intellectually stimulating for adults. Toy Story 3's idea of Andy "letting go" of his toys and moving on to a new stage of his life was probably the most definitive example of this. When factoring an adult Christopher Robin into this live-action Winnie the Pooh, the story almost lends itself to a similarly mature, bittersweet theme.
At the moment no further details are known regarding who will direct the Winnie the Pooh live-action film, or when it will to commence production and see release.
Your Daily Blend of Entertainment News
Thank you for signing up to CinemaBlend. You will receive a verification email shortly.
There was a problem. Please refresh the page and try again.