10 Actors Who Will Be Famous By 2017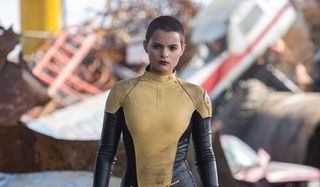 By the time that 2016 is over, we will have seen hundreds of new movies released to the masses – some starring popular names and recognizable faces, and others comprised entirely of up-and-comers looking to leave their mark on the industry. From all of those titles, we expect to see multiple standout performances, some coming from actors who we've never really heard anything about. Obviously this field will be filled with a lot of surprises that we don't see coming, but there are certain performers who we definitely have our eye on going into the new year.
Going through the 2016 release calendar, we've put together a list of 10 lesser-known names who we think are going to wind up leaving an interesting mark on the cinematic year. Read on to find out our choices!
Brianna Hildebrand (Deadpool)
All of the footage we've seen from Deadpool has suggested that the film will be packed to the brim with all kinds of hilarity and insanity – mostly courteous of star Ryan Reynolds – but we expect big things from Brianna Hildebrand's Negasonic Teenage Warhead. We're not entirely clear on what her character's abilities are, but her part as an angst-y, goth teen should work great as a foil to the ridiculousness of the titular Merc With The Mouth.
Cyrus Arnold (Zoolander 2)
We were actually introduced to young Derek Zoolander Jr. in the final moments of Ben Stiller's 2001 comedy Zoolander, but in Zoolander 2 he's all grown up and turned into young actor Cyrus Arnold. It's true that we haven't seen much of the character in footage just yet, but surely Stiller must have seen something significant in him to cast him within such a star-packed ensemble, and the young actor should have a fun geeky role to play opposite his idiotic fictional father.
Anya Taylor Joy (The Witch)
There are still a few high-profile movie from the 2015 indie film festival circuit coming out in the next year, but The Witch is easily one of the most buzzed about. A horror film set in colonial New England, the story follows Anya Taylor Joy as a young girl who finds her family set upon by the evil of a witch. The feature is incredibly dedicated to its period setting, and Joy has already earned high marks for her performance.
Jaeden Lieberher (Midnight Special)
With films like Take Shelter and Mud, Jeff Nichols has firmly established himself as a director to watch – and in his last film demonstrated an impressive ability to work with child actors. It's for this reason that we have high expectations for Jaeden Lieberher in the sci-fi thriller Midnight Special. He demonstrated impressive talent with his performance alongside Bill Murray in 2014's St. Vincent, and we expect a lot from him as Michael Shannon's gifted son in the new movie.
Neel Sethi (The Jungle Book)
It was all the way back in July of 2014 that Neel Sethi landed the hotly-pursued role of Mowgli in director Jon Favreau's live-action adaptation of The Jungle Book - and now that the movie is about to come out, the young actor is on the verge of stardom. From what we've seen, the film looks absolutely beautiful, and obviously Mowgli is the key character in the story. If Sethi can impress, the sky is the limit.
Lana Condor (X-Men: Apocalypse)
Bryan Singer has assembled a talented group of young actors to play the young mutants who will likely play key roles in the X-Men franchise beyond X-Men: Apocalypse, but Lana Condor is one star that has caught our curiosity. She doesn't have any professional credits just yet, and as Jubilee will be introducing a brand new character – so there is real opportunity for her to leave an indelible mark. We're staying positive and hoping that she does.
Alexandra Shipp (X-Men: Apocalypse)
That's right: 2016 looks like it's going to be a big year for young actors joining the X-Men universe. Playing Storm in X-Men: Apocalypse, Alexandra Shipp steps into a very interesting position, as fans never really did take to the performances of Halle Berry. That being said, Storm is a very important character in this franchise, and Shipp is now in a position to become the best live-action version of the weather-controlling mutant.
Madison Wolfe (The Conjuring 2 : The Enfield Poltergeist)
Director James Wan is returning to the world of horror this summer with the sequel The Conjuring 2 : The Enfield Poltergeist, and while Patrick Wilson and Vera Farmiga will surely be back front and center, the young Madison Wolfe is a talent you should keep an eye on. Playing Janet Hodgson in the adaptation of the famed Entfield Poltergeist story, she's has a key role to play in the movie's plot, and could surprise us all.
Travis Fimmel (Warcraft)
At 36 years old, Travis Fimmel is a bit older than all of the other actors on this list, and it's true that he has the television show Vikings… but we predict that it will be his big screen role as Anduin Lothar in Duncan Jones' Warcraft that will really make him a superstar. The large-scale fantasy epic is aiming to make a big impact this summer, and as the human lead he's in position to earn a lot of attention.
Jessie Usher (Independence Day: Resurgence)
Given that Jessie Usher is playing the son of one of the biggest action movie stars of the 1990s, there's certainly a good amount of expectation for his role in Roland Emmerich's Independence Day: Resurgence. We don't exactly expect him to match the charisma of Will Smith's Capt. Steven Heller (that would just be unfair), but if utilized properly he could be a real stand-out (which is saying something when you look at the talented ensemble cast).
Assistant Managing Editor
NJ native who calls LA home and lives in a Dreamatorium. A decade-plus CinemaBlend veteran who is endlessly enthusiastic about the career he's dreamt of since seventh grade.
Your Daily Blend of Entertainment News
Thank you for signing up to CinemaBlend. You will receive a verification email shortly.
There was a problem. Please refresh the page and try again.