The 10 Best Random Side Characters In The Marvel Cinematic Universe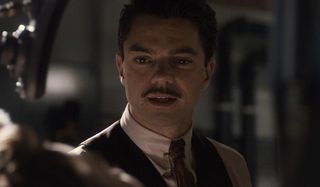 With the superhero film genre's popularity increasing at a seemingly exponential rate, it's clear that moviegoers can't get enough of comic book action on the big screen - and the Marvel Cinematic Universe is leading the charge with their diverse library of characters. However, admittedly a superhero story would get fairly boring if all we saw were the good guys and bad guys beating each other to a pulp and hanging out by themselves in the scenes in-between - which is why much needed supporting and side characters spice up the narrative. So while heroes like Iron Man, Captain America, Thor and the Guardians of the Galaxy are the main attractions, their allies (and even occasionally enemies) add their own charm through humor, romance, intellect and general assistance.
We've gone ahead and taken a look at the best supporting characters the MCU has given us over the years. For the purposes of this list, we haven't chosen any characters who are superheroes/supervillains in their own right or have their own powers - which is why, even though they are great characters, you won't see War Machine, Falcon or any of the Asgardians. Fortunately, there are still plenty of unique and important individuals to include. Here are our top 10 picks.
10. Senator Stern
His accumulated screen time between Iron Man 2 and Captain America: The Winter Soldier may only add up to about 10 minutes, but Senator Stern has proven to be one of the more humorous characters the MCU has given us - which is no surprise given that it's Garry Shandling playing the role. In Iron Man 2, he was determined to take Tony Stark's armor for the U.S. government and made no secret of his distaste for the industrialist, making it all the poetic when he had to pin a medal on him at the end of the movie. However, it was the revelation that he was a Hydra agent in Captain America: The Winter Soldier that not only made him look scummier, but also birthed all those "Hail Hydra" memes that followed in the weeks after. That alone warrants a spot on this list.
9. Happy Hogan
Jon Favreau did more than just write, direct and produce the first two Iron Man films. He also starred as Tony Stark's driver/bodyguard Happy Hogan in all three movies in the trilogy. In Iron Man his role was tantamount to a cameo with only a few lines, but in the sequels, his role expanded to the point that he saved his boss's life from Whiplash, (sort of) helped Black Widow at Justin Hammer's factory, and was nearly killed by Aldrich Killian's Extremis soldier Eric Savin. While it's unclear whether we'll ever see Happy again since Iron Man 4 isn't part of Marvel's upcoming film slate, at least he proved himself to be one of Tony's closest allies and provide a few comedic moments here and there. Maybe they can throw him into Captain America: Civil War for one final appearance.
8. Jane Foster
Jane Foster's profession was changed from nurse to astrophysicist from the comics to the movies, and that decision has proven to be a wise choice. Her astrological studies led to her discovering Thor when he was banished to Earth, and after her defeated the Destroyer and Loki the first time, she became one of Earth's leading experts on Asgard. In Thor: The Dark World she even got to wield the power of the Aether - which admittedly caused more harm than good - but by the end of the film it was her intelligence as a scientist that allowed her to help Thor take down the Dark Elf Malekith. It's true that the Natalie Portman character is primarily known as Thor's main love interest, but she has proven to be capable and intelligent on her own without the God of Thunder. It looks like Jane won't be appearing in Avengers: Age of Ultron, and rumor has it that she and Thor might have broken up since we last saw them together. Hopefully she's return one more time for Thor: Ragnarok , though, just so she can get some resolution.
7. Howard Stark
Howard Stark, as seen played by Dominic Cooper and John Slattery, automatically gets a spot on this list for giving the world Tony Stark, but on his own he's proven to be one of the MCU's most important historical figures. He's most notable for being one of the main members of Project Rebirth and later giving Captain America his trademark vibranium shield. After helping the Allied forces win World War II and assisting Peggy Carter in retrieving his stolen weapons in Agent Carter, he went on to be one of S.H.I.E.L.D.'s founding members and give the world many of its scientific advancements. Who knows what he might have been able to accomplish with today's technology? Oh, and of course he flaunted the same humor and wit that his son would one day inherit. Basically, what it all boils down to is that it if it weren't for Howard, we wouldn't have Captain America and Iron Man.
6. Yondu
Guardians of the Galaxy was full of hilarity, and a fair portion of those funny moments were courtesy of Ravagers leader Yondu Udonta, played by Michael Rooker. The man is neither hero nor villain, only keen on getting the score and living by his own code of honor. Essentially he is a contradiction personified. On the one hand, he's the gruff leader of a gang of outlaws who was able to take down one of Ronan's squads by simply by using his whistle-powered arrow. On the other hand, he collects cute animal figurines and developed a fondness for the Earth kid that he was supposed to deliver to someone else - although that doesn't stop him from constantly threatening to feed Peter to his crew. Oh, and he has the perfect nonsense words to use when talking over someone. Whatever his role is in Guardians of the Galaxy 2, we're looking forward to seeing his peculiar brand of kookiness back.
5. Erik Selvig
Despite being one of the few MCU characters who didn't originate from the comics, Stellan Skarsgaard's Erik Selvig has made a name for himself as one of this universe's premier scientists. He may not be a superhero like Bruce Banner and Tony Stark, but like Jane Foster, he is an expert in the field of astrophysics and has become knowledgeable about Asgard. Starting out as a fairly straight-laced character, Erik was brainwashed in The Avengers, but snapped out of it in time to tell Black Widow how to close the Tesseract portal. Thor: The Dark World turned him into comedic relief after the effects of Loki's mind control bent his sanity, but he still proved useful in figuring out the Convergence and helping Thor defeat Malekith. He'll be back for another round of science in Avengers: Age of Ultron, and while we're looking forward to seeing him interact with Earth's Mightiest Heroes, let's hope he keeps his pants on this time.
4. Maria Hill
First appearing in The Avengers, Maria Hill has slowly become one of the most recognizable S.H.I.E.L.D. agents. While she may have just started as Nick Fury's right-hand woman, she later proved how badass she was when she helped Fury, Captain America, Black Widow and Falcon take down the Hydra-controlled Helicarriers in Captain America: The Winter Soldier. Although we don't know much about her background, she has nonetheless been an ally to many major Marvel heroes, and has even dabbled in the television side of the MCU on Agents of S.H.I.E.L.D. When Avengers: Age of Ultron kicks off, she'll be working for Tony Stark and helping out the Avengers on their mission to bring about peace in the world, so while we may not necessarily see her busting out any spy moves, rest assured she'll be a tremendous asset.
3. Pepper Potts
Without Pepper Potts, Tony Stark might have buckled under the weight of all his responsibilities. When we met her in Iron Man, she was his personal assistant and aided him in his everyday business, from making appointments to "taking out the trash" (i.e. escorting out the women he would bring back to his mansion). She has since become much more than that, as once Tony Stark became Iron Man, he was so busy that eventually he decided to make her CEO of his company, and not long after they finally admitted they were into each other romantically. Of course, the life of a superhero is dangerous, and despite nearly dying at the hands of Iron Monger, Whiplash and Aldrich Killian, Pepper aided Tony in taking down all of those adversaries. She even got to show off cool Extremis superpower briefly, but fortunately those are gone (we don't need her blowing up any time soon). It's still unclear whether we'll be seeing her in Captain America: Civil War (or even a cameo in Avengers: Age of Ultron), but as arguably the second most important Iron Man character,
2. Phil Coulson
Amidst all the gods, aliens and superheroes, Phil Coulson serves as the MCU's everyman. Like Erik Selvig, Coulson was an original creation for this universe meant to be the representative of S.H.I.E.L.D. His role in Iron Man was supposed to be minor, but his character proved popular enough with audiences that he was brought back for Iron Man 2, Thor and The Avengers, and now leads his own TV series in Agents of S.H.I.E.L.D. He may not have special abilities, but Coulson has used his particular set of skills to calmly take down the dangerous and superpowered alike with a cool demeanor and style. These days he serves as S.H.I.E.L.D.'s new leader and deals with threats varying from Hydra to Inhumans to even a separate group of individuals claiming to be the real S.H.I.E.L.D. So while it would certainly be nice if his Avengers friends also found how he is still alive at some point, he's keeping himself busy fighting the good fight
1. Peggy Carter
In the comics, Peggy Carter was a resistance fighter who fought alongside and fell in love with Captain America during World War II - but the MCU has transformed her into so much more. Debuting in Captain America: The First Avenger, Peggy immediately impressed audiences as a strong female character who was tough, intelligent and ready to kick down any obstacle in her way. Her character was popular enough that she got a One-Shot short film attached to Iron Man 3, and that eventually led to the limited series Agent Carter, where we really got to see her skills at work as she tracked down Howard Stark's missing weapons and prevented Dr. Johann Fenhoff's attack on New York City. Did I forget to mention she was one of the founders of S.H.I.E.L.D.? Even though we know she lives to an old age thanks to Captain America: The Winter Soldier, Marvel would be wise to continue utilizing her, whether this means including her in other films or renewing Agent Carter for Season 2.
Your Daily Blend of Entertainment News
Connoisseur of Marvel, DC, Star Wars, John Wick, MonsterVerse and Doctor Who lore. He's aware he looks like Harry Potter and Clark Kent.
Your Daily Blend of Entertainment News
Thank you for signing up to CinemaBlend. You will receive a verification email shortly.
There was a problem. Please refresh the page and try again.