Agent Carter's Season 1 Finale Featured A Surprising Marvel Cameo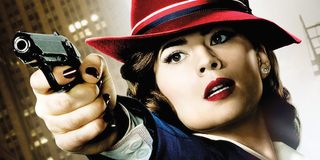 Warning: there are major spoilers for the Agent Carter episode 'Valediction" ahead! If you haven't watched it yet, turn back now and click on another one of our wonderful articles.
Agent Carter finished its first (and potentially only) season with a bang on Tuesday night with Peggy and her allies defeating Ivchenko, whose real name was Johann Fenhoff, and preventing a mind controlled Howard Stark from dropping Midnight Oil on Times Square. Fans got to what happened with the main characters in the aftermath, but the big surprise came in the last minutes when the imprisoned Fennhoff (now fitted with a muzzle to prevent him from speaking) met his new cellmate: Dr. Arnim Zola, Hydra scientist extraordinaire.
That's right, the man who will eventually corrupt S.H.I.E.L.D. and download his mind into 1970s computers is now roomies with the man who nearly sent all of Times Square into a murderous rage. Handing Fennhoff a pad and pencil, Zola points out that it's good they are in an America prison and asks the psychiatrist to write down how his vocal abilities worked, implying that these two are about to enter into a sinister alliance.
Agents of S.H.I.E.L.D. frequently uses the line, "It's All Connected," and that especially rang true last night. Writers Stephen McFeely and Christopher Markus told EW that Fennhoff meeting Zola was deliberately meant to connect to Captain America: The Winter Soldier. While Zola and his men were able to secure Bucky after his fall from the train in Captain America: The First Avenger, it's Fenoff that will be key to Captain America's best friend's transformation into the Winter Soldier. Said Markus:
So now we have Fenhoff to blame for why Bucky was turned into a ruthless assassin. The writers also mentioned that should Agent Carter be renewed for Season 2, both Fenhoff and Zola could return to the series, although concerning the latter, it would be harder to use him (since unlike the audience, Peggy doesn't know about the slow Hydra infiltration). As it stands now, Zola has been a prisoner for approximately a year or two, so he has few (if any) resources. With Fennhoff's help, however, he will be able to accelerate his plans and begin to revive Hydra behind the U.S. government's back. Each of them by themselves is bad enough, but teaming up together? No good can come of this.
Your Daily Blend of Entertainment News
Connoisseur of Marvel, DC, Star Wars, John Wick, MonsterVerse and Doctor Who lore. He's aware he looks like Harry Potter and Clark Kent.
Your Daily Blend of Entertainment News
Thank you for signing up to CinemaBlend. You will receive a verification email shortly.
There was a problem. Please refresh the page and try again.