10 Great Comic Book Characters Movies Have Never Gotten Right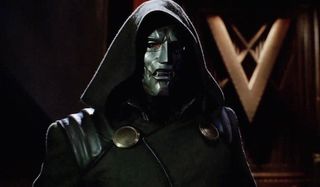 When it comes to superhero movie adaptations, the goal isn't necessarily to make a carbon copy of a story from the comics, but they should at least stay true to the spirit of the source material. A lot of these movies have been successful in this endeavor, specifically with properly transitioning important characters from the printed page to the big screen. Unfortunately, there have also been many instances where beloved heroes and villains haven't been treated with that kind of respect.
Whether it's a Marvel entry or a DC offering, both companies have had instances where they've done a poor job or adapting a character for their movies, even if the story itself wasn't necessarily bad. Here are the ten folks we've gathered whose adaptations have been the most egregiously botched, whether it was once or several times.
Mr. Freeze
Yep, we're starting off with an easy one, because really, almost everything is wrong with Batman & Robin's Mr. Freeze. The unnecessarily glowing costume. The dull characterization. The cold puns. My God, the COLD PUNS! It's a wonder they were able to fit in Victor Fries trying to save his terminally ill wife, but that wasn't enough to make him remotely enjoyable. Mr. Freeze may have started out campy and ridiculous in the comics and '60s Batman TV series, but thanks to Batman: The Animated Series' revamp, he shifted to being a tragic character, and that iteration would have been more interesting to watch than Batman & Robin's joke-dropping version. Maybe he'll have a shot at big screen redemption in one of the new Batman solo movies in the DCEU, but for now, people wanting to see a good live action Mr. Freeze should check out the most recent Gotham episodes.
Venom
Since debuting in the 1980s, not only has Venom become one of Spider-Man's greatest villains, but many consider him to be the Wall-Crawler's arch-nemesis. When it was announced that Eddie Brock would become the symbiote-powered monster in Spider-Man 3, fans were understandably excited, but that was extinguished for many upon seeing the movie. It didn't help that Brock didn't turn into Venom until the latter half of the movie, when two other villains had already been in the spotlight, but in the short time he was on screen, Venom failed to impress. His monstrous build from the comics was traded for normal human size, and Topher Grace's Brock never came off as intimidating, no matter how many times he showed his teeth. Sony has put a solo Venom movie into development, and while we're baffled by the fact it won't be connected to Spider-Man, let's hope this Venom is at least better than Spider-Man 3's version.
Ghost Rider
Bad CGI aside, at least the cinematic Ghost Rider mostly looks like his comic book counterpart, from the biker look to his flaming skull. Unfortunately, that's where the similarities end. Even ignoring both of the Ghost Rider movies' bad stories, poor writing, and horrible visual effects, Nicolas Cage's Johnny Blaze was so weird and crazy (you know, like a lot of his performances) that it didn't feel like he was the true Ghost Rider. He just happened to be a flaming skull guy who couldn't intimidate a fly. I mean, remember how Rebel Wilson reacted to him in the first movie? She took it all in stride, and that's not how one reacts to seeing a demon killer who just saved them from a mugger. Although Ghost Rider is back at Marvel Studios, there are no current plans to make an MCU-set movie, so fans will just have to live with Cage's bizarre portrayal.
Elektra
While Jennifer Garner is a good actress, the problem with her Elektra is that it felt like she was playing a pale imitation of the real deal. For one thing, Elektra is Greek, and Garner is as white as it gets. Besides ethnicity, it's hard to see Garner's Elektra as someone who's trained around the world and mastered the art of the ninja/assassin. Even when she was fighting Daredevil and Bullseye in the 2003 Daredevil movie, it felt like Garner's Elektra was just going through the motions. She was fine, but Elektra isn't supposed to be just fine. She's supposed to be the best. Her 2005 spinoff was a slight improvement, but overall, she just hasn't been done justice in the movies. Since Elektra is being played by Elodie Yung in the Daredevil Netflix series, it's doubtful we'll see her on the big screen, but at least she's finally getting her due in live action.
Doctor Doom
This entry was originally meant to feature the entire Fantastic Four, but since Michael Chiklis' Thing and Chris Evans' Human Torch were actually good, the team gets a pass. Instead, their arch-nemesis Doctor Doom is the new target. Victor von Doom is one of the Marvel Universe's greatest villains, but twice now (not counting the unreleased 1994 movie) the Fantastic Four movies have tarnished his legacy. He doesn't have the same gravitas as his comic book counterpart, and his looks have been subpar at best, though at least Julian McMahon's version got to actually wear a mask rather than have it become his real face. Even worse, both cinematic versions have powers, which goes against the character's core. Doctor Doom is dangerous because of his intellect, and while he has given himself powers in the comics, it's always been through scientific or mystical means he deliberately initiated, not while tagging along on the superhero team's mission. At this point, his only hope is if the Fantastic Four property finds its way back to Marvel Studios.
Cyclops
Thanks to Wolverine getting the most attention in the X-Men movies, Cyclops basically got the shaft. Despite being the X-Men's leader in the comics and one of the most fleshed-out characters on the team, in the movies he was essentially sidelined as a supporting character. Moviegoers never got to learn what made him special, and with each movie, his role grew smaller to the point that he was just ignored. He was eventually killed off in X-Men: The Last Stand, though thankfully X-Men: Days of Future Past retconned this out of history. (His minor role in X-Men Origins: Wolverine isn't even worth talking about.) We can only hope that Tye Sheridan's version in X-Men: Apocalypse will make up for the mistreatment, and depending on how the main X-Men movies continue post-2016, maybe we can watch the younger Scott Summers grow into the character he's meant to be.
Gambit
Taylor Kitsch certainly looked like Gambit in X-Men Origins: Wolverine, but how he was presented was disappointing. For one thing, Kitsch kept switching between the character's natural Cajun accent and a regular America accent, much like what Halle Berry did with Storm. It also didn't help that the 2009 blockbuster barely used Gambit. He fought Wolverine because of a misunderstanding, dropped him off on an island, and then used his energy powers to destroy a wall with his staff. Even his ability was slightly altered, because although Gambit can indeed charge objects with energy, he usually can't telekinetically control the charged objects, and they're supposed to explode on impact rather than just hit with a lot of force. This version wasn't necessarily awful, he just could have been improved in several areas. We can only hope that Channing Tatum's version will be better whenever his solo movie comes out.
Poison Ivy
Mr. Freeze was bad enough, but then Batman & Robin threw in Uma Thurman's Poison Ivy to anger us further. Thurman's portrayal of the plant-controlling villainess certainly wasn't dull, but it wasn't the right energy the character needed. Like her cold-obsessed cohort, she was dropping bad jokes left and right, and was trying way too hard with the whole "men are always attracted to me" deal. Despite retaining the green color scheme, her costume was also a letdown, coming off as cheaply made at times, and just bizarre at others. Adaptations like Batman: The Animated Series and the Batman: Arkham video games have managed to get the character right, but Batman & Robin failed to do so. Maybe one of the new DCEU Batman movies can at least feature the Caped Crusader fighting her.
Green Lantern
Admittedly, Ryan Reynolds and Hal Jordan do share that same kind of arrogant personality, and the actor wasn't the worst part of the 2011 Green Lantern movie. Unfortunately, Reynolds failed to capture all of what makes Hal the character great, instead cracking a few too many jokes and further proving that Deadpool was the hero he was born to play. Then there's the issue of Green Lantern's look, which wasn't Reynolds' fault, but just bad CGI. Despite all the money poured into the production's visual effects, the suit looked awful, and the constructs made from the ring didn't look much better. Many reports indicate that Hal Jordan will be one of the main Green Lanterns in 2020's Green Lantern Corps, so whoever takes the reins for the DCEU will ideally give fans a more memorable and faithful version of the Emerald Knight.
Curt Connors/The Lizard
Here's a villain who truly has never lived up to his potential on the big screen. Curt Connors was first played by Dylan Baker in the Sam Raimi Spider-Man movies, and while they changed his academic background from biology to physics, he showed promise. Despite Baker expressing interest in Connors turning into The Lizard, all his character got to do was chastise Peter Parker for not doing his homework and briefly study the symbiote. Then Rhys Ifans played the character in The Amazing Spider-Man and got to turn into The Lizard. Although this version hit most of the same beats as his comic book counterpart, he wasn't a compelling villain. He didn't bring anything exceptional to the table, and making matters worse, his flat-faced reptilian form was a disappointing departure from how the character usually looks. Now that Spidey's in the MCU, there's the possibility The Lizard could be seen again, but if Marvel and Sony are more keen on using antagonists that haven't been seen in the movies yet, then his chances won't be good.
Your Daily Blend of Entertainment News
Connoisseur of Marvel, DC, Star Wars, John Wick, MonsterVerse and Doctor Who lore. He's aware he looks like Harry Potter and Clark Kent.