Nic Cage Snuck Off The Ghost Rider Set To Sleep In The Scariest Place Possible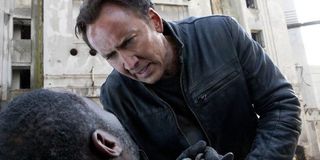 Nicolas Cage is so much more than a man; he's a legend. This is in part because of his long list of iconic movie credits, from Leaving Las Vegas to National Treasure, Moonstruck to Kick-Ass. It's in part because of his outrageous performance style, and crazy Cage eyes. But it's also because of all those stranger-than-fiction true tidbits about his life that pop up--like that he named his son after Superman, or that he bought himself a pyramid. You hear stories like these, and think, "Well, of course he did. He's Nic Cage!" Well, thanks to Idris Elba, we've got a new one to add to ever-expanding encyclopedia of inexplicable Cage behavior.
As part of his continued efforts to promote his latest thriller No Good Deed, Idris Elba took to Reddit to offer up an AMA. Amid answering questions about The Wire and Luther, Elba shared a story from the set of 2011's Ghost Rider: Spirit of Vengeance, in which he appeared opposite the one and only Nic Cage. It turns out the premise of many a hackneyed sitcom is just how Cage lives his life:
So for the record, Nic Cage doesn't need some weird inheritance stipulation or schoolyard peer pressure to spur him to spend the night in a house that is easily one of the creepiest in the world. He does it for his art. He does it for all of us. That's just how Nic Cage rolls. To better understand what it's like being a vengeance-fueled, soul-eating biker from beyond the grave, this Academy Award-winning actor spent the night in Dracula's castle. This is the kind of commitment to craft I want to hear about on Inside The Actors Studio.
Sadly for all his efforts at tapping into that energy of Dracula's abode, Ghost Rider: Spirit of Vengeance was reviled by critics, scoring an embarrassing 18% on Rotten Tomatoes. And the $57 million sequel underwhelmed domestically, taking in just $51 million. These numbers made Ghost Rider 3 seem a faint hope at best. But the last we heard on that property was that it had reverted back to Marvel, and been declared DOA.
Staff writer at CinemaBlend.
Your Daily Blend of Entertainment News
Thank you for signing up to CinemaBlend. You will receive a verification email shortly.
There was a problem. Please refresh the page and try again.