10 Great Movies To Watch Before Netflix Gets Rid Of Them In July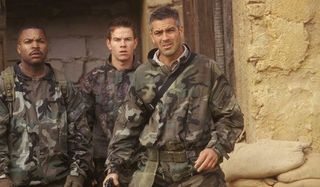 It seems like just yesterday that 2015 was starting, but already we are more than halfway though the year. And as the calendar flips from June to July, that means that the library of streaming titles at Netflix is due for a shakeup. There are many great titles that will be arriving online July 1st, but sadly there are also some absolutely fantastic ones that are departing.
So which are the best titles that will soon be hopping off of Netflix (opens in new tab)? We've culled together a list of the top 10, and we're sad to say that it's a pretty awesome bunch of movies. Make some time in your calendar, and prepare to watch all these film before they drop offline!
Fear and Loathing in Las Vegas
Apparently Terry Gilliam's Fear and Loathing in Las Vegas only signed a six-month lease when it made a deal with Netflix. We first reported about the movie coming to the streaming service back in January, but will be gone on July 1st. If you've been putting this one off, I'd highly recommend you watch before it's gone, because this is a trippy, beautiful masterpiece and a genius adaptation of a classic book. See it, and embrace the weirdness that is the mind of Hunter S. Thompson.
Moonstruck
The most recent stage of Nicolas Cage's career has sadly reduced the guy to being a punchline, but the guy truly made some amazing movies back in the day. The go-tos are titles like Leaving Las Vegas and Raising Arizona, but Norman Jewison's Moonstruck deserves to be mentioned in the same breath. Not only does the movie feature one of Cage's best performances – playing as a one-armed, hyper-emotional romantic baker – but it's balanced against a shockingly great Oscar-winning performances from Cher and Olympia Dukakis.
Patton
Independence Day is usually a good holiday for watching war movies, but you shouldn't plan on using Netflix if you want to watch the history-rich Patton from director Franklin J. Schaffner. That being said, why not give a watch a few days early? There's a good reason it won seven Oscars after it was released in 1970. It's probably best known to audiences from its intro with the speech and giant American flag, but what follows that scene is one of the best war films ever made, and an iconic performance from the great George C. Scott.
Big Fish
In the last 15 years or so, the work of director Tim Burton has been arguably hit or miss, but it's easy to argue that his last truly phenomenal film was his 2003 effort Big Fish. In addition to being a fantastical fairy tale that works with Burton's unique style in all the right ways, the story is also a heart-wrenching tale about the relationship between a father and a son who has always felt distanced from him. If you missed your opportunity to watch it for Father's Day, I'd recommend checking it out before it leaves Netflix.
Cast Away
There are many titles out there that prove just how incredible an actor Tom Hanks really is – from Philadelphia to Apollo 13 to Saving Private Ryan - but few movies out there shine a spotlight on his tremendous talent quite like Robert Zemeckis' Cast Away. The guy not only has to almost completely fend for himself on screen, but he even makes you emotionally connect with a volleyball. There are some big Hanks movies coming up in the near future, including Steven Spielberg's Bridge of Spies, so why not go back and experience some of his past best works?
Natural Born Killers
As is the case with most controversial films, Oliver Stone's Natural Born Killers has many arguments going both for it, and against it, but at the very least it's worth checking out if not just to formulate your own opinion on it. The material certainly isn't for more sensitive viewers, as it regularly turns up the madness and violence levels to 10, but it's also a fascinating look at pop culture true crime with stunning performances from Woody Harrelson and Juliette Lewis.
Super Troopers
Since its release, Jay Chandrasekhar's Super Troopers has earned itself quite the cult following, and if you've ever been interested in knowing what all of the fuss is about, now is your time to act. The humor is admittedly sophomoric, but if you can let yourself enjoy the movie you'll definitely get more than a few laughs. Even if you've already seen the movie, you also have an incentive to give this a watch before it leaves Netflix if not only because a sequel was officially crowdfunded and greenlit back in April.
Terminator 2: Judgment Day
If you're hoping to use Netflix so that you can catch up with the Terminator franchise to get ready for the upcoming Terminator: Genisys, you may want to hurry up and get started before the new film hits theaters. The fifth movie in the series will be dropping the same day that Terminator 2: Judgement Day leaves the online streaming service. Even if you're not prepping for the new film, though, this James Cameron-directed modern classic is still worth either experiencing for the first time or revisiting just because of its amazing action and surprisingly great drama.
Three Kings
There are very few movies out there that do as incredible a job capturing the Persian Gulf War as David O. Russell's Three Kings. Bringing together a fantastic cast that includes George Clooney, Mark Wahlberg, and Ice Cube, the movie manages to be incredibly entertaining (largely thanks to the charisma of its leads), but also is at times quite brutal (the torture scene featured late in the film is horrifically memorable). It's easily one of Russell's best works, and given his filmography that's no light praise.
Crouching Tiger, Hidden Dragon
Fans of the Ang Lee-directed marvel Crouching Tiger, Hidden Dragon will be happy to know that the film will be lasting a touch longer than the rest of the titles on this list... but not by much. Instead of being cut from the library on July 1st, sadly this movie will be heading out on July 4th. It's certainly worth trying to catch before then, as there are few mainstream wuxia films that are more gorgeous, and everything from the wirework to the fable-like storytelling has held up beautifully.
Assistant Managing Editor
NJ native who calls LA home and lives in a Dreamatorium. A decade-plus CinemaBlend veteran who is endlessly enthusiastic about the career he's dreamt of since seventh grade.
Your Daily Blend of Entertainment News
Thank you for signing up to CinemaBlend. You will receive a verification email shortly.
There was a problem. Please refresh the page and try again.