Super Troopers 2 Just Raised A Crazy Amount Of Money, Is Officially Happening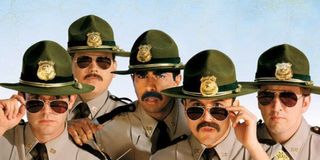 Back when the 2001 cult-classic crime-comedy announced it would officially take on a sequel, the excitement among fans was pretty much unanimous. There was always a flirtation with the idea of a sequel, but never a guarantee. That was until 8 months ago when Super Troopers director and co-star Jay Chandrasekhar confirmed that Super Troopers 2 was looking very likely, and the team would participate in a Kickstarter campaign. After seeing the success of the Veronica Mars crowdfunding campaign, the team probably had high hopes. And as it turns out, the campaign (which wrapped up yesterday) absolutely dominated.
The Broken Lizard comedy troupe decided to go for Indiegogo as their crowdfunding platform and for the past 30 days, has been raking in some serious dough. Their initial goal was for $2 million, and they reached it in a matter of 26 hours. They have raised $4,425,495 for production funds, and there's currently a post-campaign perk, so it can keep growing. With over 50k funders, according to Variety, Super Troopers 2 now ranks as the second largest crowdfunding for a film. The highest bar was set by the aforementioned Veronica Mars Kickstarter campaign back in 2013 (which raised $5.7 million). Super Troopers 2 beats out the recent second ranking of Alan Tudyk and Nathan Fillion's project Con Man which raised $3.16 million.
After the campaign met its initial goal in 26 hours, it assured that the sequel would indeed go into production this coming summer. Fox Searchlight had previously agreed to release the sequel if that goal was met. The original Super Troopers was made for $1.2 million 14 years ago and ended up grossing $23 million worldwide.
The campaign offered a bunch of fun incentives to get the crow donating. On the high-spender side of it, there was a trip to the ballpark with the main actors for a $15k donation, one $20,000 incentive would get you a private standup comedy show from the troupe, and another $20,000 incentive entitled "The Best Man" would provide all five members of Broken Lizard as your groomsmen or bridesmaids at your wedding.
Fans united, excited for the prospect of a new film, that's funding has well doubled the initial goal. Pre-production will start in May and principal photography this summer in the Northeast. Super Troopers 2 brings back all five of the original Troopers— Jay Chandrasekhar, Steve Lemme, Paul Soter, Kevin Heffernan and Erik Stolhanske— for new pranks and shenanigans. No official release date has been given yet, but we'll be sure to keep you updated on any progress.
Your Daily Blend of Entertainment News