The 10 Greatest Movies Of All-Time, According To Actors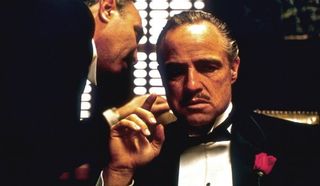 Everyone's favorite movies are different. My top picks include Steven Seagal flick, an obscure wing-nut comedy that's never officially been released on DVD, and a badass Korean thriller. That's part of the fun of being a movie fan, the endless debate about the merits of one picture or the other.
Time Out New York recently polled a bunch of actors and compiled a list of the top 100 movies of all time, and while that's too extensive a list for us to go through here, we're down to tackle the top ten. To compile their list, they asked a bunch of actors what they think the greatest movie of all is, and when they tallied the results, they're not exactly what you expect. Some you would guess, others, not so much. The participants include such varied talents as Bill Hader, Juliette Binoche, Lili Taylor, Anthony Mackie, Stephen Merchant, and dozens more. Click HERE to see the entire, wildly diverse list, and see what each participant put down at their top choices.
10. Taxi Driver
Martin Scorsese had to have a spot in the top ten, and few movies on his CV are as beloved and celebrated across the board as 1976's Taxi Driver. Maybe the defining Robert De Niro performance in a career of them, the film won the Palme D'or at Cannes and hasn't stopped accumulating acclaim since. Routinely cited as one of the greatest movies of all time, it has elements of noir, a vigilante narrative, psychological thriller, and more, and has become a true cultural touchstone. Even those who have never seen the movie know the infamous, "You talking to me?" scenario.
9. The Red Shoes
1948's The Red Shoes, inspired by a Hans Christian Anderson fairy tale, follows a young, unknown ballet dancer as she contends with the demands made of her by her career and by the man she loves, and the tension that creates. Praised for being both avant garde and classical, the film explores the nature of creativity and presses at the boundaries between cinema and theater. Michael Powell and Emeric Pressburger's film is a story that, like its protagonist, is pulled in multiple directions by multiple forces and influences, to mesmerizing results, and is never as simple as the story sounds.
8. Boogie Nights
Paul Thomas Anderson has become celebrated as a modern auteur with sprawling movies like Magnolia, There Will Be Blood, and The Master on his resume. Still, it's his 1997 porn industry-set drama Boogie Night that finds a place in the top ten. Probably still his most broadly appealing film, the John Holmes-inspired story nails the details of the 1970s setting, showed us that Mark Wahlberg could actually act his ass off, and presents a textured, empathetic, compassionate portrait of what amounts to an extended family comprised of wounded individuals struggling with their various demons.
7. Annie Hall
1977's Annie Hall is Woody Allen working at the top of his considerable game. 38 years later it still holds up, and is a reminder of just how wonderful the romantic comedy, as a genre, can be, which is nice to remember when you consider the deluge of tepid nonsense that realm has largely become. The story of Alvy Singer's (Allen) quest to figure out why his relationship the Dianne Keaton's title character failed, the film deals with so much more. Jumping around in time, it deals with themes of love, sexuality, and identity, delves into psychoanalysis for thematic and comedic effect, and is generally regarded as one of the best works from a master.
6. The Godfather Part 2
Sequels are generally regarded as never living up to the original, but Francis Ford Coppola's The Godfather Part 2 is one of the rare exceptions to this rule. The 1974 follow up to the 1972 original continues the saga of the Corleone family and is both a direct sequel and a prequel. One thread picks up with Michael (Al Pacino) in the wake of the first film, while the other follows the early days of his father, Vito (Robert De Niro here, Marlon Brando in the first film). The winner of six Oscars, it's one of those rare films where everything and everyone involved, is working at their best, which, considering the talent involved, the results are bound to be this impressive and monumental.
5. To Kill A Mockingbird
Based on Harper Lee's Pulitzer Prize-winning novel, the 1963 film adaptation of To Kill A Mockingbird is every bit as celebrated as the source material. Lawyer Atticus Finch has become the defining role of Gregory Peck's stellar career, and the story of his defense of a black man falsely accused of a crime in the Depression-era South has become one of the defining moments in American cinema and literature. It has woven itself into the fabric of our history so completely that even if you have never read the book or seen the movie, you still know characters like Atticus Finch and Boo Radley.
4. Cinema Paradiso
The only foreign film to crack the top ten, Cinema Paradiso, Giuseppe Tornatore's 1988 Italian drama, is simultaneously a love letter to cinema and an exploration of memory. Upon learning of the death of the proprietor of the movie theater he frequented as a child, a filmmaker looks back at his younger days and recalls how he fell for film and how his friendship with the older man shaped his life. Not only is it gorgeous and moving, after walking away with an Academy Award in 1989, it was also hugely important to the Italian film industry, and is credited with reviving the flagging business. And it has an Ennio Morricone score, which is always a bonus.
3. A Woman Under The Influence
John Cassavetes is at his best creating characters and sticking them tough, dire circumstances, and never did he do that better than in A Woman Under the Influence in 1974. Starring his real life wife Gena Rowlands and Peter Falk as perhaps the dysfunctional family, the story is a poignant, moving, intense, and often terrifying portrait of mental illness. Complex and compelling, it dissects social norms, traditional family dynamics, and contemporary gender roles, among others, in an insightful, empathetic, even humorous way. It's emotionally exhausting to watch, makes you feel like you got punched in the stomach, and never truly resolves, but there is a very good reason it lands at number three on this list.
2. The Godfather
Francis Ford Coppola's 1972 crime epic The Godfather is not just a gangster movie, it's the gangster movie. There have been greats before and since, but none truly measure up to the tale of the Corleone family. The transformation of Michael Corleone (Al Pacino) from the golden child outsider to reluctant leader of a violent crime family is one of the greatest American narratives ever put on celluloid. Along with the other two films in the trilogy, especially the second, The Godfather has had an unparalleled impact on the culture in the years since, both popular and otherwise, and its influence is still widely felt today in movies and beyond.
1. Tootsie
And here we are at number one, and the most surprising entry in the whole damn list. Don't get me wrong, I adore Tootsie, it's a wonderful movie and Dustin Hoffman is as good as ever and it still totally holds up. It's just that I don't know how many of you out there anticipated it would be named the greatest move of all time. Perhaps the tale of a down on his luck actor who dresses like a woman to land a job on a soap opera resonates deeply with actors in a way I know nothing about. Sydney Pollack's 1982 film is great and you should watch it, but as you do, ask yourself if you think it's the best movie ever. Maybe you do.