10 Upcoming Movies That Could Be Surprise Box Office Hits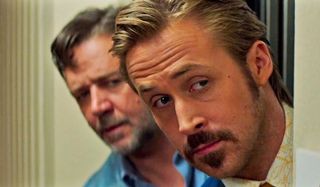 2016 has a fair amount of films that, in our opinion, could be huge stinkers. But not everthing this year has to offer looks like it's going to take a long walk off a short pier. In fact, there's 10 movies that look and sound like such crowd-pleasers that we're convinced they'll take the market by storm! Prepare to hear us out big time, as we run down the list of 10 future movies that have a good shot at surprising us all.
The Shack
Faith-based blockbusters are slowly becoming big ticket items in the film industry. One of last year's surprise hits was the Christian targeted film, War Room, which put up some impressive numbers between the end of August and the beginning of October last year. As time has gone on, the budgets and the casts for such films have gotten better, and The Shack looks like it could be the next film to inspire audiences everywhere to take its spiritual journey to box office glory. Not to mention, Academy Award winner Octavia Spencer is among the cast list, which hits that the performances of this film might actually garner some solid praise from outside of the typical audience this film is destined to cater to. Of course, the big competition of that weekend is a little film called Fantastic Beasts And Where To Find Them, but don't be surprised if this movie sticks around in the top 5 for a couple of weeks.
Jack Reacher: Never Go Back
Jack Reacher may not have been as big of a blockbuster as any of the Mission: Impossible films, but Tom Cruise still brought the Lee Childs adaptation to a $218 million worldwide gross on a $60 million budget. With the sequel set to open on a more competition friendly October release date, Jack Reacher: Never Go Back has a really good shot to outperform that original film's performance. With Cruise's brand recognition, and the positive reaction to the first film promising a solid base of fans turning up to see Reacher on the same weekend Ouija 2 and Boo: A Madea Halloween are set to bow, the board seems to be set for an easy win.
The Nice Guys
Shane Black is a damned good writer, and an equally impressive director. Unfortunately, save for Iron Man 3, none of his films in the director's chair have broken the piggy bank of the movie-going public. That stands to change this summer, as his next comedy, The Good Guys, looks to not only promote his involvement in the Marvel sequel as a marketing point, it's also got the leading duo of Ryan Gosling and Russell Crowe to plug to the masses. Yes, Neighbors 2: Sorority Rising is out the same weekend, and the public can only stand so much raunch before they're turned away. But we think that the sequel to the 2014 sleeper hit will end up coming home with less beer money this round, and it's all thanks to that the flick that's on display in this killer red band trailer.
Hardcore Henry
Every now and then, a film has that combination of festival buzz and a neat gimmick that propels it into the public's consciousness, begging for a mass-marketed sequel to cash in on its uber success. If SXSW's reactions to Hardcore Henry are any indication, this first-person action/adventure I going to be the next film to fulfill that mold. Even without any sort of festival reactions on its back, the promise of a continuous film that give you, the audience, the POV of the protagonist throughout the entire film is something that's bound to catch on. Even better is the fact that with the film poised for an early April release, there's very little competition to stop this film from becoming an off-season hit akin to films such as The Martian.
Keanu
Of course, April doesn't belong solely to our hardcore friend from the last slide. In fact, if there's any film that seems poised to knock Hardcore Henry off of its perch, it's the Key and Peele starring film Keanu. As if the titular kitten wasn't enough of a draw for the folks in the crowd to rally around this flick, it also looks like a comedy on par with the best offerings of the hot comedy team. With the memory of their groundbreaking Comedy Central series fresh in everyone's minds, Key and Peele are ready to become bona fide movie stars. Most importantly, the crowd reaction to this film from SXSW defintely has us thinking that opening weekend will be cinch, with some solid follow-up coming on the heels of the release of Captain America: Civil War. Keanu has all of the makings of a surprise comedy hit, all the audience has to do is show up.
Kubo And The Two Strings
There was once a time that Pixar had a stranglehold on the animated film market. Of course, this started to change when Disney, Dreamworks, and Laika started to win the folks over with some rather brilliant fare of their own. Laika in particular has stuck a chord with audiences, with hits such as Coraline and Paranorman bringing in praises of both critical, and mass, appeal; and Kubo and The Two Strings looks to be no different from its predecessors. With a beautiful art style, an impressive cast, and an absolutely gorgeous theatrical trailer, it's beginning to look like the kids will have something to enjoy while their older counterparts are watching another, more mature animated feature at the box office.
Sausage Party
If you'd talked to us about Seth Rogen's Sausage Party last week, we'd have probably told you that it was going to be a disappointment. The story didn't seem that fresh, and rarely has adult themed animation really made a splash at the box office. Then the one-two punch of the SXSW screening and the release of the raunchy, uncensored trailer happened, and we became believers. Not only did the premise of food discovering its true purpose turn out to be the perfect topic for an R-rated comedy, but Rogen and co-writer Evan Goldberg's combination of their trademark humor, and a cast to die for, looks to be irresistible. Not to mention, since the main characters are food products, there's a lot more they can get away with showing the audience... and advanced word has proven that they've taken full advantage of this loophole. The interest of the public alone could put this film into some serious financial gain.
Hush
It's pretty easy for an indie horror franchise to turn into a crowd-pleasing hit, otherwise The Purge wouldn't be looking at a third box-office success this summer. But there's something about the premise of Hush that has us wondering if there's something more to this new horror offering. With the basic set-up pitting a deaf-mute woman against an aggressive attacker in her secluded home, the execution of such an idea is a creative enough endeavor that it can stand on its own. The film only starts to get more intriguing when you read the advanced reviews, and see the recently released trailer that shows only the tip of the carnage-filled iceberg. Unlike the rest of the crowd, Hush's success doesn't depend on box office results, as the film has been acquired by Netflix and is scheduled for an April 8th deployment. With a wider audience reach than other films in its position, this horror thriller could be the film everyone's talking about the Monday after it's been dropped.
A Monster Calls
The pedigree for A Monster Calls is a rather impressive one, as the literary success of Patrick Ness and Siobhan Dowd's collaboration is only matched by the cast the film has attracted. The story of a child trying to come to terms with his mother's terminal illness, the cast list boasts the likes of Liam Neeson, Felicity Jones, and Sigourney Weaver in its canon. And yet, it's film's mix of whimsy and dread that have us sold on the prospect of this film being a quiet hit. There's not a lot to go on in terms of the film's visuals, but what little we've seen has both our outer adult and inner child intrigued to take this journey into the unknown. If you loved Where The Wild Things Are, then you're probably nodding your head in agreement right now, and we wouldn't blame you.
Passengers
At this point, you could probably film an entire movie with Jennifer Lawrence and Chris Pratt sitting at a kitchen table, reading ingredients off of a cereal box, and it'd still be a hit. Thankfully, the pair's first film together has much more fertile material to work with, as Passengers tells the story of a couple who are woken too early in their deep space journey. The script was a hot item, as it was one of 2007's Black List standouts; and with The Imitation Game director Morten Tyldum and co-stars Michael Sheen and Lawrence Fishburne in the mix, the stars are aligned for one big sci-fi hit at the end of the year. Of course, there's also the chance that Academy Awards voters will latch onto this film, elevating Passengers' possible success to golden levels.
This poll is no longer available.
Your Daily Blend of Entertainment News
Senior Movies Contributor
CinemaBlend's James Bond (expert). Also versed in Large Scale Aggressors, time travel, and Guillermo del Toro. He fights for The User.