2016 Best Picture Oscar Goes To Spotlight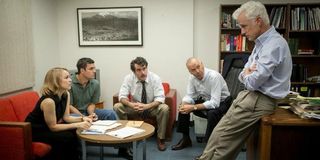 Just when it looked as though The Revenant was about to take home all of the biggest awards at the 88th Academy Awards, Spotlight managed to swoop in and claim the final and, arguably, most important prize of the night as it picked up Best Picture.
And since Spotlight thrived because of its huge ensemble of fine actors, each of whom delivered pitch perfect performances, it was a delight to see the stage not just filled with the film's producers Blye Pagon Faust, Steve Golin, Nicole Rocklin, and Michael Sugar, but with a variety of members of the cast and crew too. They each looked genuinely surprised to be up on stage with the Best Picture Oscar, and there was good reason for that.
Going into tonight's ceremony the three favorites for the Best Picture Oscar were The Revenant, The Big Short, and Spotlight, which had been firmly supported through the awards season by Hollywood's directors, producers, and writers, respectively. But, as the night wore on, and especially when Alejandro González Iñárritu and Leonardo DiCaprio secured the Best Director and Best Actor Oscars, it looked as though the 2016 Oscars would be remembered as The Revenant's. Spotlight's victory for Best Picture changes all that, and instead highlights how wonderfully diverse a year it has been for cinema.
It just wouldn't have been right if The Revenant had left with all of the major honors that it went up for. Sure, The Revenant possesses a visceral power and virtuoso visuals that were, at times, utterly spellbinding. But Spotlight was a different kind of movie. One that patiently meandered and built up its plot in a superbly controlled and utterly engrossing fashion.
It was just as powerful as The Revenant, but whereas Alejandro González Iñárritu's epic was like a punch to the gut, Josh Singer and Tom McCarthy's script, which rightfully saw the duo take home the Best Original Screenplay prize earlier in the night, and the latter's elegantly detailed direction, meant that Spotlight's unsettling nature festered deep inside your gut like a cancer.
Not only does Spotlight stay with you in a way that only the best films can, but it is also integral filmmaking about a variety of hugely important themes and subject matters. At the same time, by confronting the horrific child abuse of priests in the Boston area, as well as the disgraceful cover-up from the church, it also reminds us of the importance of investigative journalism and what it can produce.
All of which is done in a captivating, cinematic, and entertaining fashion, and is why Spotlight is a worthy winner of the 2016 Best Picture Academy Award.
Your Daily Blend of Entertainment News
Thank you for signing up to CinemaBlend. You will receive a verification email shortly.
There was a problem. Please refresh the page and try again.