3 DC Comics Movies That Should Use Viola Davis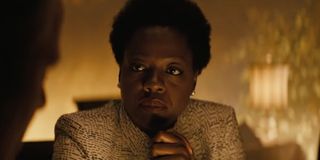 In Suicide Squad, Viola Davis portrays Amanda Waller, the tough-as-nails warden of Belle Reve prison, which houses all of the most nefarious and sadistic villains Batman as ever faced. However, her work will extend beyond the borders of this supervillain team-up film. The actress recently revealed that she signed on to portray the character in three films, which presumably includes Suicide Squad. But which ones?
She announced this stipulation of her contract to The New York Times, and by now it's commonplace for actors to sign on for multiple superhero films at once. Given the prominence of Waller in the comics and DC universe, though, her skill set would be perfect for a number of films currently on the DC slate. So let's look at them, shall we? Our choices are:
But why? Given Waller's close ties to Belle Reve, which in turn has close ties to Batman/Bruce Wayne, an obvious next appearance could be the solo Batman movie. Ben Affleck will be starring in, directing and co-writing the film with Geoff Johns, which is rumored for release in 2018. Here's a potential spoiler warning from Suicide Squad, but one report states that the end of the film will see the villains breaking out of Belle Reve, including Jared Leto's Joker. Perhaps the Dark Knight will be looking to Waller for answers as to how this could have happened.
Another potential appearance from Davis' Waller would be in one of the Justice League films. Details on what those films will entail are still largely under wraps, but Waller offered one of the most entertaining story arcs in the Justice League: Unlimited animated series. In it, she spearheaded Cadmus, which developed super-powered clones as a defense against the Justice League. We see in the Batman v Superman trailer how people are wary of Superman and the power he wields, and this fear could be ignited in Waller. In the series, she created an army of clones to protect humanity against the Justice League, but in the DC cinematic universe, a substitution could be Task Force X. A government official says in the trailer that he's heard rumors about some of them having "abilities," including Killer Croc (Adewale Akinnuoye-Agbaje) and Enchantress (Cara Delevingne).
If the rumors buzzing around the web are true, then another appearance from Amanda Waller would make sense in Aquaman. Again, spoiler warning, but Latino Review reported a while back that the warden is keeping Aquaman's trident in a trophy case within the lower levels of Belle Reve, the same lower levels where she's keeping all the meta-humans. With Jason Momoa making his debut as the Atlantian superhero in Batman v Superman: Dawn of Justice, it begs the question how did Waller get a hold of his weapon of choice? Perhaps this means we'll also see her pop up for a brief bit in this film.
Warner Bros. has a hefty slate of DC films scheduled up through 2020, and not all of them have been announced yet. Much in the same way Guardians of the Galaxy was an unexpected success for Marvel, Suicide Squad could potentially prompt the WB to green light a sequel. In that case, Viola Davis' Amanda Waller would likely return in that. But in the meantime, these are our picks for films that could best utilize the character's particular set of skills. What do you think?
Your Daily Blend of Entertainment News
Thank you for signing up to CinemaBlend. You will receive a verification email shortly.
There was a problem. Please refresh the page and try again.