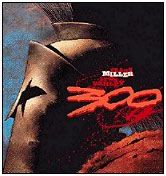 You may have heard of an itty-bitty movie called Sin City, based on a graphic novel by Frank Miller. Yeah, that one. Back away from your "recut, extended, unrated" DVD for a moment and check out promos for his latest adaptation, 300.
By clicking here, you can view the newly-activated Warner Bros site for the movie 300. It is equipped with a Synopsis, Concept Art, and a Production Blog. All three sections are rather brief, with Video Journals and Downloads coming soon. While the site is a work in progress, it should be loaded with the goods in no time.
300 is directed by Zack Snyder (Dawn of the Dead)and stars Lena Headey (Brothers Grimm) and Gerard Butler (Dear Frankie). The plot is about the Queen of Sparta named Gorgo, who is watching the land while her husband fights the battle of Thermopylae, joined by 300 Spartan soldiers. Check back for more info on this highly-anticipated movie in the coming weeks.
Your Daily Blend of Entertainment News
Thank you for signing up to CinemaBlend. You will receive a verification email shortly.
There was a problem. Please refresh the page and try again.