The 39 Clues Lead To A Movie Adaptation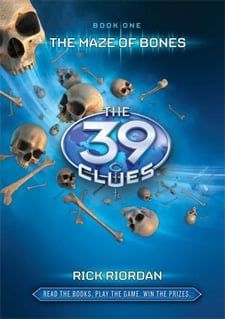 Although only one book has been written (and not yet published), The 39 Clues is already mapped out to include a ten book series, as well as a set of collectable cards and an online adventure game set up to give participants a shot at a $10,000 prize. It only makes sense, then, to adapt the up and coming franchise into a movie as well, with the possibility of one of Hollywood's biggest names involved.
DreamWorks/Paramount has picked up the film rights to The 39 Clues, reports Variety, which is scheduled to become a phenomenon this fall by Scholastic Books. The currently established deal will have Deborah Forte producing on the Scholastic side and Steven Spielberg producing on the DreamWorks side. But Spielberg may take a bigger role than just producer, as the filmmaker is eyeing the project as something he might want to direct.
The story, created by Rick Riordan, tells the story of the most powerful family in the world and a mystery surrounding their wealth and legacy when the family matriarch passes away. The first book, The Maze of Bones features the death of the character and a choice for the family - $1 million dollars or a clue leading to the rest of the family's legacy. Over the course of the subsequent novels readers will be given clues found around the world and throughout history to discover the secret of the family's power.
I'm not sure how that story adapts into film, but everyone involved is very passionate, with the confidence that there's enough material for several movies if they wish to go that route. The idea that Spielberg is giving the project enough attention to consider directing is a pretty good indicator of how big this whole 39 Clues experience could be.
Unfortunately, just acquiring the rights to the series doesn't automatically make a movie happen. Spielberg isn't locking in as a director yet (plus the director is already attached to two other projects) and scriptwriting duties haven't been assigned. Additionally, the rights were picked up by DreamWorks which could lead to complications when Paramount and DreamWorks go their separate ways in the future. If Spielberg is this interested in the movie adaptation, however, don't expect The 39 Clues to stay hidden for long.
Your Daily Blend of Entertainment News