The 6 Biggest Surprises At The 2016 Academy Awards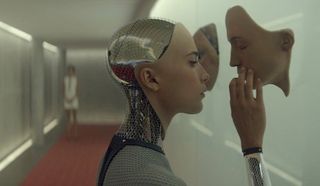 One of the reasons why we watch the Academy Awards is to see which upstart or underdog comes roaring from behind, out of nowhere, to walk away with Oscar gold. It happens each and every year, and the 88th annual Academy Awards were no exception. Perhaps there was nothing quite as big as Shakespeare in Love beating out Saving Private Ryan, or Crash taking Best Picture over Brokeback Mountain, but there were still a few choices that made you scratch your head and make a puzzled face. In that spirit, here are biggest upsets, shocks, and surprises of this year's Academy Awards.
Mark Rylance Winning Best Supporting Actor Over Sylvester Stallone
The race for Best Supporting actor was never a foregone conclusion, with tough competition from Christian Bale, Tom Hardy, and Mark Ruffalo. That said, it was Sylvester Stallone, for his performance in Creed, who was the sentimental favorite, and after winning the Golden Globe, he appeared to be the frontrunner. It was a great story after all—it had been 40 years since his last nomination, for playing an older, broken incarnation of the iconic Rocky Balboa. Still, when the envelope was opened, it was Mark Rylance, and his quiet, understated turn as a resigned Russian spy in Steven Spielberg's Cold War thriller Bridge of Spies, that walked away with the Oscar glory. And it doesn't hurt that he gave an adorable speech and dressed kind of like a leprechaun.
Ex Machina Winning Best Visual Effects
This is the true surprise of the 88th Academy Awards and the real David versus Goliath story of this year's ceremony. With a budget of $15 million, Alex Garland's cerebral sci-fi thriller Ex Machina had roughly one-tenth the funds of the likes of Star Wars: The Force Awakens, The Martian, Mad Max: Fury Road, and The Revenant. But as the underdog showed tonight, it's not necessarily how much you have, but how you use it. Seamlessly bringing the artificially intelligent android Ava (Best Supporting Actress Winner Alicia Vikander) to life, the subtle, inconspicuous effects are every bit as impressive as the more bombastic, obvious competitors.
Sam Smith's "The Writing's On The Wall" Winning Best Song
There have been few songs as polarizing over the past year as Sam Smith's "The Writing's On The Wall," the theme to the latest James Bond adventure, Spectre. Though it has won some other awards, most notably a Golden Globe, Smith's song has been reviled by a large portion of the population (seriously, we wrote a story about the hateful tweets that dropped after Smith won). When it was announced, it seemed especially hard for many to swallow as it came shortly after Lady Gaga totally destroyed it. She floored the entire audience, both those in attendance and those watching around the world, with her performance of "Til It Happens To You," from sexual assault documentary The Hunting Ground, which may be the moment of the night.
Mad Max: Fury Road Dominating The Technical Categories
Perhaps not a total shock, considering how well it was reviewed and how much love it has received, Mad Max: Fury Road slayed when it came to the technical categories, walking away with Oscars for Best Production Design, Best Sound Mixing, Best Sound Editing, Best Film Editing, Best Makeup and Hairstyling, and Best Costume Design. Yes, that's right, we now live in a world where a Mad Max movie owns six, count them, six Academy Awards. Sure, George Miller didn't win Best Director, and there was no Best Picture in the cards, but any way you look at it, six Oscars is one hell of haul, and the post-apocalyptic adventure added an impressive collection of hardware.
Roger Deakins Loses Again/Emmanuel Lubezki Wins Again
Roger Deakins is one of the most celebrated cinematographers in the world, racking up an impressive 13 Academy Award nominations. He had, however, never won. Many thought this was his year for his impressive work on the tense, grim drug cartel thriller Sicario. But alas, it was not to, again. It was, however, Emmanuel Lubezki's year, again. Not only has the Mexican cinematographer been nominated for an Oscar eight times, with his win for The Revenant, he now has three of his very own. And even more impressive, this marks his third consecutive win, a feat only accomplished a handful of times in history.
Spotlight Wins Best Picture Over The Revenant
Spotlight winning Best Picture is easily the least surprising item on this list. Early on, most of the chatter surrounding the big award revolved around The Revenant. It had so much prestige, so many name players doing good things, that it seemed an obvious choice. However, the closer we got, the more precursor awards that came and went, the more momentum Spotlight picked up. An ensemble cast of fantastic actors all doing topnotch work, and a weighty, important, topical subject, based on real life events, it was tailor made for awards recognition. When it won Best Original Screenplay earlier in the night, that was a big indicator that Spotlight could walk away with Best Picture.
Your Daily Blend of Entertainment News
Thank you for signing up to CinemaBlend. You will receive a verification email shortly.
There was a problem. Please refresh the page and try again.