6 Things You Have To Know Before Seeing Guardians Of The Galaxy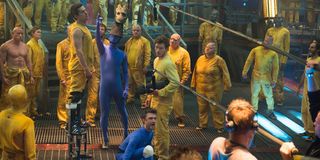 We're now officially in the back half of the 2014 summer movie season, but still my most anticipated blockbuster of the season remains the same one that it's been since the start: James Gunn's Guardians of the Galaxy. The sci-fi adventure looks like 120 minutes-plus of epic intergalactic fun, and the wait for the film's arrival in theaters has been agonizing. What has both eased and aggravated this condition are my memories going back to last year when I got an incredible behind-the-scenes look at the film.
Last fall, I was invited by Marvel Studios and Disney to take a flight out to London, England with a small group of other journalists to visit the set of Guardians of the Galaxy. Touring through the various departments and interviewing members of the cast and crew, I learned a number of fascinating things about the upcoming blockbuster that I'm delighted to share with you now.
Dave Bautista Beat Academy Award Nominated Actors For The Role Of Drax
Dave Bautista looks absolutely incredible as Drax The Destroyer. Sitting down to answer questions on the Guardians of the Galaxy set in full makeup, the wrestler-cum-actor looked entirely badass, alien and natural in his grey skin with red, vein-like tattoos. As perfect-looking as Bautista is for the part, however, he still had to face down some serious competition in the casting phase.
"I can't even see how it's possible that we found him and how that happened," Gunn said, enthusiastically fawning over his star. "He went up against a lot of other actors when he tested—Academy Award nominated actors and everything—and he got the role because he was the best actor."
What sold the director is that Bautista came as a full package. In addition to being absolutely massive (seriously, built like a brick house), Bautista was able to impress Gunn by fully delivering the Shakespearean-esque dialogue and finding a heart and soul inside a big mountain of an alien.
From Bautista's perspective, the casting was a slam dunk: he truly sees himself as Drax and eels he was really born to play the part. Digging into the history and personality of the character, the actor discovered a surprising number of connections that allowed him to completely bond with him mentally. Said the star,
It's a performance that the trailers for Guardians of the Galaxy have not really shown us much of yet, so get excited to see it all unfold on the big screen.
Zoe Saldana Wants Teenage Boys To Find Gamora Sexy
Zoe Saldana is certainly no stranger to playing an alien. It was just a few years back that she strapped on a motion capture suit for director James Cameron and brought Neytiri to life in Avatar. Of course, the actress' role as Gamora in Guardians of the Galaxy is quite different, as she performs under loads of green prosthetic makeup instead of CGI. Knowing that she would have to undergo hours of treatments in the special effects department, Saldana had just one major request during the design process. Did she want to be scary? Did she want to be ugly? Quite the opposite – she wanted to be alluring to the core demographic that will make Guardians of the Galaxy a hit.
The actress sat down with us between takes on set – still wearing all of her full Gamora look – and right out the gate the actress admitted that this is the first character she really wanted to stress as being pretty.
"That's usually a thing that I don't think about with other characters that I play, but for some reason, because I was going to be green and I was going to be the lead girl, I just wanted teenage boys to find me attractive," Saldana said. "I don't know why I was stressing this a lot, but I really was when we were testing… Everybody else was just like, 'Contacts? Do we dye the hair? Wig no wig? What color hair? How long is it?' I'm like, 'Pretty. Teenage boys, please. We gotta get their vote.'"
Speaking candidly, she told us that getting older and spending a solid four months being green had her questioning if she was losing her sex appeal, but ultimately what it drove home for her was a changing perspective of what beauty actually is.
"It definitely moves you a bit, and you do kind of wobble going, 'Okay, what is beautiful?'" Saldana said. "And then you start to find your character really appealing and very beautiful in how different she looks because you get used to it."
Prepare To Be Terrified By The Villains Of Guardians of the Galaxy
As is the case with most Marvel movies (or at least the ones that don't include Tom Hiddleston's Loki), the marketing for Guardians of the Galaxy hasn't really given us a clear cut look at the film's villains. Characters like Lee Pace's Ronan The Accuser and Karen Gillan's Nebula have appeared in flashes and even delivered a line of dialogue or two, but the spotlight has largely been on the members of the titular team. You shouldn't take that as a hint to underestimate them, though, because come August 1st they will be ready to scare the pants off you.
Nebula, to start, has a real bone to pick Zoe Saldana's Gamora. The two alien assassins were raised together as sisters, but there is a great deal of sibling rivalry going on between the two of them, and Gillan told us on set that a lot of it has to do with jealously. It's this envy that winds up taking her over and making her do some truly terrible things.
"Jealousy can consume you and turn you bitter and ugly, and I've kind of played with that," Gillan said, laughing and adding, "She's a total sadist."
In Guardians of the Galaxy, however, Nebula is working as an agent for Ronan – pictured above - who is really the big bad of the plot (discounting Josh Brolin's Thanos, who still appears to be playing puppet master to a certain degree). As frightening as we're going to find Nebula, Gillan promises that Ronan is even worse.
"He's the scariest thing I've ever seen!" the Scottish actress said, while dressed as a blue alien with a cyborg eye and arm. "Oh my God, it's so intimidating. Also, he's really tall, so for the first time [in a role] I'm allowed to wear heels, which is quite good. He's just one of the creepiest, scariest villains I've ever seen! Ohhhh. It's horrible. And we're just creepsters together!"
Sean Gunn: The Unsung Hero Of Guardians Of The Galaxy
When Guardians of the Galaxy arrives in theaters this August, it will likely be voice actor Bradley Cooper and the CGI artists who get a great deal of the credit for bringing the angry, lovable Rocket Raccoon to life. But there's one other person who has had a huge influence on the character as well. Instead of having Cooper be on the set of the Marvel movie doing motion capture, it was instead director James Gunn's actor brother, Sean Gunn, on set wearing a full-body green spandex suit standing in for Rocket and performing scenes with the rest of the cast. And absolutely everybody was nuts for his performance.
"I don't know how it's gonna be when they do the voice over with Bradley's performance," Dave Bautista said talking about the younger Gunn's performance. "He's so in to this part. It's such a shame that he's not going to be Rocket Raccoon, because to me he is, and he's making the part."
Similar sentiments were shared by star Chris Pratt, who explained that Sean Gunn's Rocket Raccoon performance did a great job keeping him in the moment while playing Star-Lord.
"It's been really great with Sean because a lot of the stuff that happens with Rocket, there are moments of real drama and real emotion - and he has committed so hard to it," Pratt explained. "So when he's off-camera, I'm responding to someone I feel really bad for."
The good news is that while Sean Gunn's performance as Rocket Raccoon is being made slightly invisible, he has another part in the movie as well. In a live-action role, he will be playing Kraglin, the sidekick of Michael Rooker's character, Yondu. Keep an eye out for him!
The Complete Story Of Karen Gillan Shaving Her Head To Play Nebula
While Scottish actress Karen Gillan became famous for her beautiful red hair starring as a companion on Doctor Who, it was around this time last year that those locks went bye-bye. As first revealed at San Diego Comic-Con 2013, Gillan completely shaved her head to play the role of Nebula, a blue, bald alien assassin. This kind of physical transformation would make any actress hesitate, but it was Gillan's real enthusiasm about being in the movie that ending up pushing her to go for it.
Speaking to us while she was in full make-up on set (which, I can tell you, was an incredible sight to behold), Gillan took us through the events that led to losing all the hair on top of her head. As she explained, going bald was a part requirement from the start of the auditions, but she was so doubtful about actually landing the part that she essentially blindly agreed to do it. It was when the role started to look like a reality that her mind began to change.
"Three screen tests [after the first one], it was, 'Oh God, this might actually happen,'" Gillan said, laughing. "And then I got the part, thought about it seriously, and I was like, 'I absolutely want to shave my head for this.' Because, I mean, the opportunity is too good to pass up.
As you can tell from the trailers and images, the actress' shaved head has a wild, scary effect on the Nebula's aesthetic. Unfortunately, off of the Guardians of the Galaxy set Gillan found people to be a little less thoughtful in real life.
"I feel like men don't hold the door open as much," she giggled.
Why Guardians Of The Galaxy Is A Lot Like A Nirvana Song
From Star-Lord's ever-present Walkman to the soundtrack blaring "Hooked On A Feeling" by Blue Swede or "Cherry Bomb" by The Runaways, the trailers for Guardians of the Galaxy have made it abundantly clear that music will play a very important role in the film. But while most of the songs we've been hearing are from the 1960s and 1970s, director James Gunn says that the most apt musical comparison to the movie comes from the early '90s – specifically the grunge era.
Discussing the idea behind both structuring the story and the cinematography of Guardians of the Galaxy, director James Gunn equated the movie to one of the ebb and flow of one of the most influential rock bands of the last 30 years.
"I think that for me, making this movie it's a little bit like a Nirvana song," he said. "It's slow and long, and then big and fast, and slow and long, and big and fast. And I really like those—sort of going from really small to really big."
Of course, these kinds of monumental shifts in blockbuster moviemaking are rather expensive – especially when they look as crazy and epic as the action scenes featured in the Guardians of the Galaxy trailers. Big budgets aren't something that Gunn is really used to working with, having nickeled and dimed his way through making titles like Slither and Super, but working with Marvel Studios really let the director exercise his vision for what he describes as an exciting cinematic film.
"I was able to design all the shots exactly the way I want them throughout the whole film," Gunn said. "The way I work is, I plan every single thing out ahead of time. In this movie, I found more than any other I'm able to make the scenes that I initially saw in my head."
Guardians of the Galaxy will be in theaters on August 1st
Image 1 of 5
Your Daily Blend of Entertainment News
Assistant Managing Editor
NJ native who calls LA home and lives in a Dreamatorium. A decade-plus CinemaBlend veteran who is endlessly enthusiastic about the career he's dreamt of since seventh grade.
Your Daily Blend of Entertainment News
Thank you for signing up to CinemaBlend. You will receive a verification email shortly.
There was a problem. Please refresh the page and try again.