7 Sports Stories That Would Be Perfect For A Biopic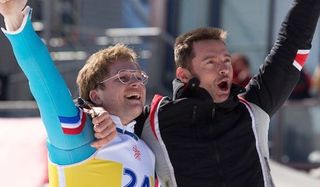 The world of sports is awash with incredible stories, tales of triumph over adversity, of never giving up despite the odds, of struggles great and small that transcend mere games and athletic contests. That's why films based on real-life sports stories, stories so unbelievable that if they were made up you'd never believe them for a second, have proliferated throughout the history of cinema.
The Jesse Owens biopic, Race, opened last week, and Eddie the Eagle hits theaters this weekend, but those are far from the only ones on the way. UFC fighter Ronda Rousey will star in her own biopic, NBA player Nat "Sweetwater" Clifton, the first African American player signed to play in the NBA will have his story told, and the "Battle of the Sexes" between Bobby Riggs and Billie Jean King will unfold in theaters. With this in mind, here are seven true sports stories that would make for great movies.
Jim Valvano
The coach that led North Carolina State University to an unlikely NCAA basketball championship in 1983, Jim Valvano was not only remembered for his frantic, post-game run up and down the court looking for someone to hug, but for a moving speech he gave about courage and perseverance he gave just weeks before he died after a battle with bone cancer.
Jimmy V's legacy is still very much felt in the world of sports, he's a charming, charismatic figure, and his story is powerful, poignant, and both hopeful and heartbreaking. In short, it's perfect fodder for cinematic greatness. He may be a bit young, but Steven Strait (The Expanse) looks the part, while someone like Bill Murray, who is a bit too old, has the right mix of charm, humor, and pathos to bring this man to life.
The 1985 Chicago Bears
The subject of a recent ESPN 30 for 30 documentary, the 1985 Super Bowl champion Chicago Bears was one of the most outrageous collections of athletes ever assembled. Not only was their path to glory full of struggle and years of build up, they were supremely talented on the field, and total wing-nuts off of it. Quarterback Jim McMahon, who went to BYU remember, showed up for his first meeting with the front office staff wearing sunglasses and drinking a beer, and their ranks included a fire-and-brimstone preacher, the greatest running back of all time, and an underdog defensive lineman who used to bounce at a strip club in college.
This is one of the first teams that took advantage of the lucrative marketing that is now such a ubiquitous part of the game—who can forget "The Super Bowl Shuffle"—and they were everywhere for a brief minute. With so many personalities and egos, there are tons of behind the scenes stories and clashes to mine. Is it weird that I'd like to see Joseph Gordon-Levitt play Jim McMahon and bring that cocky swagger to life? Casting William "The Refrigerator" Perry might be tough, but The Blind Side's Quinton Aaron certainly has the size and physicality for the part.
Sri Lanka/Pakistan Cricket Rivalry
Soccer fans are renowned for being the most rabid, rowdiest sports enthusiasts in the world, but they got nothing on cricket, especially the heated rivalry between Pakistan and Sri Lanka. In places that have experienced war first hand, fans clutch their cricket teams with fierce passion, and politics, terrorism, and fandom intersected in 2009. While in Pakistan for a match, the Sri Lankan team was attacked by a group linked to terrorist organizations. Not only was the country and sport rocked by this event, Sri Lanka lost to Pakistan in the World Cup finals just a few months later. (Sri Lanka did win the World Cup by beating their rival in 2012).
The story not only has the drama inherent in high-level sports, but huge stakes that involve politics and the world stage, and charismatic figures like cricket star Mahela Jayawardene, the captain of the Sri Lankan team who was injured in the attack and instrumental in getting the team rescued. Given MJ's iconic status, it would be cool to see a big international actor play the part. Shahid Kapoor is a huge Bollywood star and looks the part, as does Dhoom star Abhishek Bachchan.
The 1992 Lithuanian Olympic Basketball Team
In 1992, the talk of Olympic Basketball was the Dream Team, made up of some of the greatest NBA players of all time, but that may not have been the best story. In 1990, Lithuania won its independence from the Soviet Union, and 1992 marked the first time the players could play in the Olympics for their own country. Featuring future NBA players like Arvydas Sabonis and Sarunas Marciulionis, the team was financially strapped, but thanks to unlikely sponsors like the Grateful Dead, they made it to Barcelona, clad in tie-die, and even won the bronze medal.
Already the subject of the documentary The Other Dream Team, this is also a perfect fit for a narrative adaptation, as it's full of drama, international politics, a grand stage, and colorful personalities. It's hard to convincingly cast basketball players thanks to them being giants and all, but you could see seven-footer Robert Maillet as Sabonis, who became a star for the Portland Trailblazers, or maybe Armie Hammer in there somewhere, he's a tall drink of water.
Jackie Mitchell
Most historical sports biopics focus on male athletes, but there is one truly remarkable story from professional baseball history is primed for a big screen telling. In April of 1931, 17-year-old Jackie Mitchell, one of the first female pitchers in professional baseball, had the chance to face giants of the game, and emerged victorious. Her team, the minor league Chattanooga Lookouts, took on the New York Yankees. Not only did she face the Bronx Bombers, inserted into a game after a rain delay, the first two batters she faced were Babe Ruth immediately followed by Lou Gehrig, and she struck them both out. And Mitchell's story continued to be remarkable.
Shortly after this event, women were declared "unfit" to play professional baseball because the game was "too strenuous," but Mitchell continued to play where she could, though she retired at 23, furious that her participation was being treated as a sideshow attraction. Emma Watson played tennis growing up and field hockey at Brown University (we're not sure about quidditch), so she certainly has both the acting and athletic chops to fill this role.
Evel Knievel
If you grew up in a certain era, Robert Craig "Evel" Knievel was something of a god. The most famous daredevil of all time was renowned for his feats daring and for suffering more than 400 broken bones. The star-spangled stuntman jumped busses, tried to leap canyons, and lived a life as big and bold as his public image. There's already a movie based on his life, the 1971, George Hamilton-starring Evel Knievel, which Knievel despised with a fiery hatred, and a recent documentary, Being Evel, hit in 2015. But with today's extreme sports landscape and moviemaking technology, this could be something spectacular, and actually might happen.
Evel Knievel's story is fascinating, full of sex, drugs, rock and roll, and the accompanying drama—there's so much more to him than just a bunch of awesome stunts, though we want to see those, too. Johnny Knoxville helped produce Being Evel, and seems tailor made to bring the legendary entertainer's swagger, style, and demons to the big screen. And he's not afraid to wreck himself in the quest for the perfect shot, which is a plus in this situation.
Sidd Finch
Sidd Finch may not be a real sports figure, or even a real person, but his story would still make for one hell of a movie. Finch was the subject of a notorious April Fool's Day hoax. In 1985, George Plimpton wrote an article for Sports Illustrated that detailed the life of Sidd Finch, a New England orphan adopted by an archaeologist (who was killed in a plane crash in Nepal), who trained in "yogic mastery" of both mind and body in Tibet, and could throw a fastball 168 miles per hour. He was reportedly a rookie for the New York Mets, and the fans, overjoyed and the prospect, flooded the magazine with requests for more information. A week later, a small article about his "retirement" was published, and on April 15, SI admitted it was all a joke.
Either angle of this story would be perfect for a movie. In my mind, a young Jeff Bridges, channeling the Big Lebowski, only with a killer fastball, could play Sidd Finch. On the other side, the actual behind the scenes story would be fun to witness, watching the genesis of George Plimpton's idea and following the story through the subsequent fallout. Alan Alda played Plimpton in an adaptation of the writer's Paper Lion, and I'd love to see Bryan Cranston or Ralph Fiennes take at shot at capturing his affected, intellectual air.
Your Daily Blend of Entertainment News