Channing Tatum And Joseph Gordon-Levitt Are Making An R-Rated Musical, And We're All In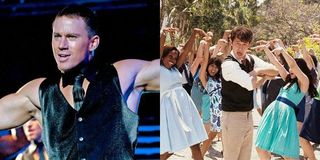 Most of the time it's impossible to get excited about a film based solely on a brief announcement or blurb. But the revelation today that Joseph Gordon-Levitt and Channing Tatum are working on an R-rated musical comedy is enough to for any cinephile to start praying to the movie Gods and pleading for it to happen.
News regarding this potential film is still very much at a minimum, but even what little we do know is enough to be excited about. According to The Hollywood Reporter, it's believed that Universal has just picked up the musical, which already has Broadway stalwart Marc Platt, who worked on Wicked, on board as a producer.
It's also been teased that the adult-tinged musical comedy will see Joseph Gordon-Levitt and Channing Tatum playing two pilots that end up on a misadventure. All of which sounds like it should be a hoot. Tatum and Gordon-Levitt previously appeared in 2005's Havoc and 2008's Stop-Loss together (not to mention G.I. Joe: Rise of Cobra), and they also sang and dance during the opening of the 2013 Academy Awards.
Joseph Gordon-Levitt devised the idea for the film alongside Michael Bacall, the screenwriter behind Scott Pilgrim vs. the World and both 21 and 22 Jump Street. Bacall has now been entrusted to evolve this original gem of an idea into a fully-blown script, though both Channing Tatum and Gordon-Levitt will be very much be involved in its development as they're on board as producers.
It's hardly surprising that the actors are ready to bust out their dancing shoes again. Channing Tatum's filmography is peppered with efforts where he's shown off his twinkle toes. Most notably in the Step Up and Magic Mike franchises, while he even showcases some movies in Hail, Caesar! too. Check out the beginning of his boogieing below.
Joseph Gordon-Levitt also isn't afraid to shake it on the dancefloor. There was a nifty little dance sequence in (500) Days Of Summer, and he also paid homage to Channing Tatum's efforts in Magic Mike when he hosted Saturday Night Live.
Universal apparently had to fend off numerous other studios to acquire the original project, and they'll have high hopes that it can capture the attention of a widespread audience. Don't expect it for quite a while yet though, as Bacall has only recently started work on the script.
Your Daily Blend of Entertainment News