Emma Watson's Colonia Trailer Is Creepy And Fascinating, Watch It Now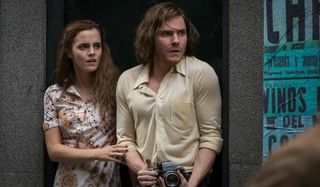 Emma Watson's quest to prove to people that she's more than just Hermione Granger continues with Colonia, which premiered at last year's Toronto Film Festival. Based on real, and rather horrific events, Watson has teamed up with some almighty cinematic talent for Colonia, and the first trailer suggests that it will go a long way to putting the world of Hogwarts and wizardry behind her.
Based on the real Colonia Dignidad, which was a cult in the South of Chile that was led by the German preacher Paul Schafer, Colonia's trailer, from Yahoo, makes it clear that it will be a dark and brooding thriller, one which sees Emma Watson's charcter put through quite an ordeal.
Colonia is set in 1973, and has at its heart Emma Watson's Lena and Daniel Bruhl's Daniel, a newly married couple who find themselves embroiled in a Chilean military coup during a period of mass protest against the regime of General Augusto Pinochet.
The politically active couple are torn apart after Daniel is kidnapped by DINA, Pinochet's secret police. Lena immediately vows to track down and save her husband, which leads her to Colonia Dignidad. Presented as a charity, it is actually a cult, and is completely cut off from the rest of the world. Despite knowing the gravity of the situation, Emma Watson's Lena decides to infiltrate the cult in order to try and rescue her husband.
Colonia's trailer does a fine job of setting up and teasing just how intense the thriller will be. There's a haunting, creepy beauty about Florian Gallenberger's direction too, which is almost surreal but still incredibly daunting and peculiar. From the look of things, Lena and Daniel's pursuit to escape Colonia is only going to lead the pair into a murky and disturbing world of dangerous experiments and secret tunnels that the cult has running.
The actor who really steals this new trailer, however, is Michael Nyqvist - whose prowess as a villain has seen him cast as such in Mission: Impossible – Ghost Protocol and John Wick. Nyqvist looks to be in fine fettle in Colonia, especially since his character's appearance pays more than a little resemblance to Ghostbusters 2's Vigo the Carphatian.
The response to Colonia at Toronto Film Festival was only mixed, but you'll be able to judge for yourself when it gets a limited release and drops on video on demand on April 15.
Your Daily Blend of Entertainment News