The 9 Most Likely Women To Play Mary Poppins, According To Gamblers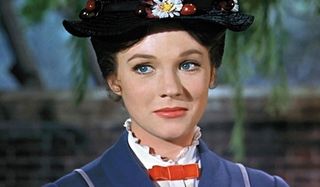 Well, that didn't take long. We just recently heard that Disney is getting back in to the Mary Poppins business, and already you can lay a wager on who will replace Julie Andrews in the lead role. (Can you ever really replace Julie Andrews?).
EW has the betting odds on which actress will take over the role of the practically perfect nanny in Rob Marshall's (Into the Woods) new film. It's going to be an interesting thing to see as, set 20 years after the events of the 1964 original, it's not quite a sequel, but not quite a reboot, but still somehow a little bit of both. Yeah, we're curious, too. But for now, here are the betting favorites for the new Mary Poppins, should you care to lay a wager.
Anna Camp
With roles in movies like Pitch Perfect and The Help under her belt, Anna Camp has shown she can handle comedic roles as well as more serious beats. And she certainly has the winning smile and perky good looks to fit the Mary Poppins mold, but this is a long shot to be sure. Odds: 50 to 1
Lea Michelle
Her time on Glee certainly proved that Lea Michelle has the pipes to pull off the musical elements of a Mary Poppins story, as well as the comedy chops. However, even with all of that going for her, the odds makers have her near the very back of the pack. Odds: 33 to 1
Gugu Mbatha-Raw
Gugu Mbatha-Raw showed off her vocal chops in Beyond the Lights and is actually a member of Disney's live action Beauty and the Beast, where she plays Plumette. You can almost hear backlash already of people screaming that Mary Poppins has to be white (it is also set in the 1930s), which is probably why such a versatile actress is not higher on the list. Odds: 16 to 1
Amanda Seyfried
Amanda Seyfried has popped up recently in musicals like Mama Mia and Les Miserables, as well as updates of classic stories like Red Riding Hood and Pan. While she can sing and handle herself when it comes to comedy, it's still hard to picture her stepping into the role Julie Andrews made famous. Odds: 12 to 1
Anna Kendrick
Anna Kendrick has shown the world that she can sing her ass off in movies like Pitch Perfect and even had her own popular single in the aftermath of the surprise hit with "Cups." With a stage background, she certainly has a handle on the theatricality of playing Mary Poppins, but would probably feel like a strange choice for the role, as it seems a little bubblier than Kendrick's usual fare. Odds: 10 to 1
Kristen Bell
Veronica Mars star Kristen Bell helped Frozen become one of the biggest animated features of all time, not to mention a modern classic in many eyes. That has to have endeared her to Disney, it's easy to picture her in the proper period appropriate garb, and she can certainly pull off the effervescent personality when she needs to. Odds: 11 to 2
Amy Adams
Flitting around the streets of modern Manhattan in a poofy dress in Enchanted, Amy Adams brought that animated Disney princess personality and aesthetic to life. Seeing what she can do in that part, it isn't hard to imagine her stepping into the Mary Poppins role, harmonizing with chimney sweeps on the street and the like. Odds: 7 to 2
Emily Blunt
Though she has lately been playing a number of tough-as-nails badasses in movies like Edge of Tomorrow, Emily Blunt did show off her musical skills last year in Into the Woods. She could affect the perky, always positive Mary Poppins attitude with no problem and slip right into the role. Odds: 5 to 2
Anne Hathaway
Anne Hathaway is practically America's sweetheart at this point, and we know she can sing thanks to her Academy Award-winning performance in Les Miserables. She is also, at least according to people who rate such things, the odds-on favorite to land the role of Mary Poppins. Odds: 6 to 4
I know it's still way, way early in the going, and we won't likely hear about such things for quite some time, but if this has to happen, and it appears it will, which of these actresses would you like to see play Mary Poppins? Or do you have someone else in mind? Sound off below.
Your Daily Blend of Entertainment News
Thank you for signing up to CinemaBlend. You will receive a verification email shortly.
There was a problem. Please refresh the page and try again.