Live-Action Beauty And The Beast Wraps With A Look At The Snowy Set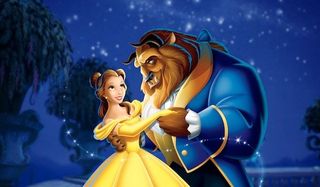 It's no secret that Disney is in the process of turning many of their beloved animated films into live-action features. They already have a handful under their belt, and another is well on its way. Their live-action Beauty and the Beast recently finished filming, and one star marked the occasion with a lovely, snow-covered photo.
Josh Gad, who plays Le Fou, took to Instagram to post this photo of himself and costar Luke Evans on the snowy stairs to commemorate the end of principal photography. It only makes sense that it is these two, as Le Fou is the sidekick to Gaston, who, in this version, is played by none other than Evans.
This doesn't reveal much, or anything, about the film, but from the look we get at the set, you get a good idea of the feel of Beauty and the Beast, at least as far as the castle is concerned. With the creepy, detailed gothic architecture on this stairway, what do you want to bet that this is where the Beast lives and keeps Belle?
Directed by Bill Condon (The Twilight Saga: Breaking Dawn Parts 1 and 2), and written by Evan Spiliotopoulos and Stephen Chbosky, the live-action Beauty and the Beast is a retelling of the classic love story. Beast is a human prince who has been turned into a hideous monster, and he won't be transformed back until he finds someone to love him, so he just hangs out in his castle with all of his servants, who were also turned into various objects. To further his goal of becoming human once more, he imprisons Belle, a beautiful, intelligent young woman, which seems like the wrong way to go about making someone love you, but we've all know how things turn out.
As you would expect, Disney has put together an impressive cast that includes Josh Gad and Luke Evans as Le Fou and Gaston, Dan Stevens as the Beast, Emma Watson as Belle, Ian McKellen as Cogsworth, Ewan McGregor as Lumiere, Audra McDonald as Garderobe, Kevin Kline as Maurice, Gugu Mbatha-Raw as Plumette, and Stanley Tucci as Cadenza, a new character. There will also be a couple of new songs that are not from the 1991 movie or the subsequent Broadway musical.
This is just the latest in a line of live-action adaptations that already includes Alice in Wonderland and Maleficent, and that will, over the next few years, also see The Jungle Book, Pinocchio, and a bunch more as Disney runs through their back catalog transforming all of their beloved animated features.
Though filming has apparently wrapped up, Beauty and the Beast is still a ways off. The process of making talking clocks and candlesticks come to life takes a while after all. The film is scheduled to hit theaters on March 17, 2017.
Your Daily Blend of Entertainment News