What Ted 3 Should Be About, According To Amanda Seyfried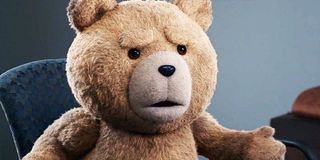 Ted 2 hasn't quite matched the success of the original. Its reviews have been relatively lukewarm, while its $32.9 million box-office return was around $15 million less than Universal expected (according to analysts). Ted 2 star Amanda Seyfried has got a pretty good idea for how to rejuvenate the stagnated comedy franchise though, because she wants to see Mark Wahlberg's John Bennett and Seth MacFarlane's Ted as dads.
Amanda Seyfried made this revelation to me during our chat ahead of Ted 2's release. After I asked if she would like to return for a potential third Ted film, Seyfried insisted that not only is she willing to reprise her role as Samantha Leslie Jackson, but she'd be offended if she wasn't asked. And to help her seal the deal she's already devised up the perfect plot for the comedy. Seyfried said of John Bennett and Ted:
Amanda Seyfried does make a very good point. There's still certainly room for the Ted franchise to grow, even though Ted 2 was admittedly rather disappointing. A lighter, more concise, plot – such as Ted and John adjusting to being parents – would give the characters more freedom to be funny, as Ted 2 struggled with the burden of its weighty legal-drama premise.
Still, even though it ultimately failed to produce enough laughs because of its courtroom premise, it was still fun to spend some more time with Ted and John as they goofed around. In fact, the first half an hour of Ted 2 is as funny as its 2012 predecessor. It just can't sustain the pace.
Meanwhile, even though its opening haul was below expectations, there's still every chance that Ted 2 will make enough money to convince Universal that Ted 3 is a good idea. Ted 2's budget was only $68 million, and it still has to open in dozens of other territories, so if it can make it to around the $120-$150 million mark then Universal might decide that there's still a future for the cuddly, crude titular bear.
After Ted's impressive opening of $54.4 million three years ago, this is the second film that has underperformed for MacFarlane. Back in 2014 A Million Ways To Die In The West only opened to $16.8 million, and while Ted 2's $32.9 million is disappointing it's still more than the $29 million that Spy accrued in its first few days back in June, which is the summer's other big comedy. Spy ultimately grossed $144.9 million. But that was thanks to the push of its impressive reviews, which is an incentive that Ted 2 doesn't really have to offer.
Your Daily Blend of Entertainment News