Adam Sandler's Pixels To Feature Donkey Kong, Pac Man, Other Video Game Icons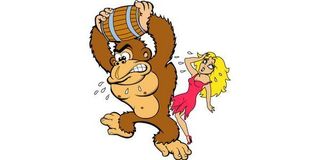 Adam Sandler's Pixels heads to the big screen next summer, centering on a group of geeks fighting an army of video game icons as they attack American cities. The film looks like it's going to rely on a major gimmick that's buoyed a lot of other recent films: licensing. Because, for the very first time – and you're not going to believe this – an Adam Sandler movie is going to be filled with corporate logos. How unexpected!
Coming Soon brings us the news that Pixels has secured the involvement of several familiar video game characters from games like Frogger, Q*Bert, Galaga, Pac-Man and Donkey Kong. The movie will involve aliens who misinterpret the signals from arcade games and employ their avatars to engage upon a siege of the world. Only a team of video game nerds headed by Sandler, Josh Gad, Peter Dinklage and a pretty non-nerd played by Michelle Monaghan (it's a paycheck) can stop them. The story is based on a popular short film by Patrick Jean. You can watch it below.
We're seeing this licensing issue pop up in several movies now as the line between film and advertisements is starting to vanish. These specific video game characters already popped up, along with newer ones, in Wreck-It Ralph, and a similar tactic was used in The Lego Movie, which utilized Lego versions of Batman, Superman, the Ninja Turtles and NBA players among other familiar brands. Following this model, the upcoming Peeps film is reportedly seeking the involvement of various other candy and toy brands.
The idea for this film actually harks back to one of the weirder semi-wide releases in recent memory. Branded, released a couple of years ago, follows a paranoid ad executive who seeks to rid the world of corporate logos taking the form of CGI blobs that attack Russia. Of course, he is the only one who can see this, because he's touched by the gods or something, and he leads a bizarre smear campaign against the corporations to eliminate advertising from the world. It is, to put it lightly, a REALLY strange film, made all the more weird by the fact that its creators clearly thought they were making a broad crowd-pleasing blockbuster. Watch the trailer below.
Pixels is directed by Chris Columbus (yes, Home Alone's Chris Columbus) and will hit theaters May 15th, 2015.
Your Daily Blend of Entertainment News
Thank you for signing up to CinemaBlend. You will receive a verification email shortly.
There was a problem. Please refresh the page and try again.