Adam Sandler Will Play Dracula For the Creator Of Samurai Jack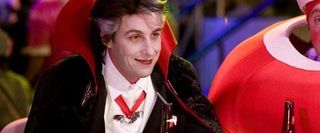 Adam Sandler is preparing to get in on the vampire craze, sort of. He's been hired to play Count Dracula in a new 3D family comedy. Not looking forward to seeing the Sand-man with fangs? Don't worry, it's a cartoon.
The film is the latest from Sony Pictures Animation, the people behind Cloudy with a Chance of Meatballs. It's called Hotel Transylvania and since it's directed by Genndy Tartakovsky, this could be really, really good. Tartakovsky is the mind behind such brilliant pieces of animation as the underrated series Samurai Jack. Putting him to work with the people who did Cloudy seems like a perfect fit. Cloudy with a Chance of Meatballs stands tall as one of the best animated movies released in recent years, I'd put it up there on a deservedly lofty plateau with Toy Story 3 and How to Train Your Dragon.
Here's Sony's official description of Hotel Transylvania:
I'm less certain about Sandler as the voice of Count Dracula, than I am about this project in general. Presumably this will be a family-friendly, not so scary version of the Count which seems like something Sandler should be able to do. Adam Sandler is great as a live-action cartoon after all, why not make him an animated one? But the Zohan doesn't have much of a voice work track record. About the only animated work he's done is in Eight Crazy Nights where, truth be told, I never thought he was very good.
Adam's providing a voice for one of the monkeys in Zookeeper this weekend, if you're unfortunate enough to see that movie pay attention to the sounds coming out the mouth of an ape named "Donald".
UPDATE! David Spade and Kevin James have also joined the cast along with Cee Lo Green, Steve Buscemi, Molly Shannon, Fran Drescher and Andy Samberg.
Your Daily Blend of Entertainment News