The Akira Live-Action Remake Just Took A Huge Step Forward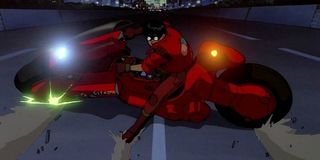 The live-action remake of Akira has been in the works for years now, but has been mired with dozens of false-starts. The project took a huge step forward today, though, as the newest writer for the adaptation has been revealed, and he sounds like a pretty solid choice.
The Hollywood Reporter has revealed that Marco J. Ramirez, who previously wrote for Sons Of Anarchy and was recently hired to run the second season of Marvel and Netflix's Daredevil, has added even more work to his schedule by signing on the dotted line to finally try and produce a script that will bring Akira to the big screen.
Warner Bros. has agreed to a deal with Ramirez, who is in the midst of putting Daredevil together with co-writer Doug Petrie. The studio's attempt to remake Akira in live-action has been a long and arduous journey. But with Ramirez on-board to write the film and Andrew Lazar and Leonardo DiCaprio's Appian Way producing, there is renewed optimism that the film might actually get to production.
That being said, we can now probably expect a silent couple of months regarding news of the project as Ramirez works his damndest to create a script that Warner Bros. will fawn over and bring to fruition. Akira was a hugely popular manga that ran throughout the 1980s, but was developed into a 1988 sci-fi animated thriller and has since been a cult commodity. Set in a dystopian Tokyo, it told the story of two brothers from biker gangs who soon turn against each other after one begins to abuse his telekinetic powers. The deviant.
Akira is widely believed to have helped legitimize the manga genre because of its brooding and rebellious tone, engrossing action set pieces and sensational animation - all of which is underlined with a ferocious energy that throttles through the film from beginning to end. It's no wonder then that studios across Hollywood have been trying to adapt Akira for Western audiences for over a decade now.
Warner Bros. originally acquired the rights to the film all the way back in 2002. But since then they've made numerous attempts to write a script and start production on the film, each of which ultimately deflating like a week old balloon. Up until now, the furthest along the film has been came in 2012 when Jaumet Collet-Serra, the director of House Of Wax, Orphan, Unknown, Non-Stop, and Run All Night began casting, and he had even begun negotiations with the likes of Garrett Hedlund, Kristen Stewart, Ken Watanabe, and Helena Bonham Carter.
But in March 2015, Serra confirmed that his version of Akira was no more, and he added that he wanted to take a break from directing. Hopefully, Ramirez's script will have better luck by the time it's complete. Until then we'll be waiting. Patiently. As usual.
Your Daily Blend of Entertainment News