Al Pacino And Christopher Walken's Stand Up Guys Gets A Shot At Awards Race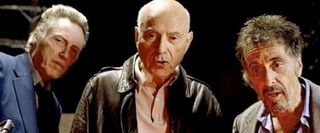 Al Pacino, Christopher Walken and Alan Arkin have each created a myriad of unforgettable characters, and between the two of them have scored ten Academy Award nominations and three Oscar wins. These three legendary actors have joined forces to play a trio of aging con men in the crime comedy Stand Up Guys, directed by Oscar-winning producer of The Cove, Fisher Stevens. Originally slated for a early 2013 release, the film has just gotten a major boost in buzz as Lionsgate has not only bumped it out of the dead zone that is January, but also is giving it a one-week qualifying run in New York and Los Angeles, that will make it eligible for the upcoming award season.
Stand Up Guys stars Pacino as Val, a old school con man recently released from his long stint in prison. He's met outside the gates by his best friend and partner in crime, Doc (Walken), who is contracted to kill him by the following morning. While this duo on its own is intriguing, things get really interesting when Val acknowledges this is his last night on Earth. From there, the pair set out to save Hirsch (Arkin), an old pal in a bind, and have a night they'll never forget.
The film's first trailer was comedic, compelling, and seemed to show a Pacino back on his game. Apparently Lionsgate realizes they have something special on their hands, as THR reports they plan to promote the film for Golden Globe nods in all possible categories. On the Oscar front, they are being a bit more restrained, and frankly realistic, realizing the Academy's long-standing bias against comedy. According to THR, Lionsgate will submit Jon Bon Jovi's "Not Running Anymore" for the Oscar category of Best Song, but unfortunately no mention is made of an Oscar campaign for Pacino, Walken, or Arkin.
Stand Up Guys will have a limited release on December 14th; a wider release will follow on February 1st.
Staff writer at CinemaBlend.
Your Daily Blend of Entertainment News
Thank you for signing up to CinemaBlend. You will receive a verification email shortly.
There was a problem. Please refresh the page and try again.