Alison Brie And 3 More Hysterical Women Hop Aboard Ensemble Comedy How To Be Single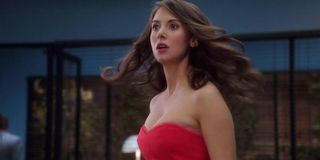 In this new era of women empowerment, it seems like every other day we are hearing about a female protagonist-driven film getting the green light. The current trend definitely has huge box-office smashes like The Hunger Games franchise and the Twilight saga to thank. The latest lady-pic How to be Single may not be as huge as the aforementioned films, but with its recent additional casting of three hilarious comediennes, it may still pack a pretty strong box-office punch if done right.
How to be Single is the girl power flick of the moment as, according to The Hollywood Reporter, Dakota Johnson, Rebel Wilson and Leslie Mann are all currently in negotiations to star in the upcoming romantic comedy. The three funny femmes will join Alison Brie, who is all but officially locked down for the ensemble comedy.
The film is said to be on par with other relationship pics with multiple intersecting storylines like He's Just Not That Into You and Valentine's Day. The plot follows characters, both male and female, as they try to navigate the single life while exploring topics of blind dating, casual sex, fear of commitments and marriage. The underlying message of the film suggests "it is not our relationships, but our single times in between, that define us."
Brie's comedic breakout came through her role in the popular TV series Community. She voices a few characters on the Netflix original animated series BoJack Horseman and can be seen in the upcoming Will Ferrell, Kevin Hart buddy comedy Get Hard. Wilson broke through with a small role in Bridesmaids and can be seen in the sequel to Pitch Perfect, slated for release in May. Dakota Johnson recently appeared in 21 Jump Street and The Five-Year Engagement and, if all goes as planned with Fifty Shades of Grey, will likely be a name we hear a lot more in the coming years. Mann, who has been making movie-watchers laugh since the '90s, is playing Audrey Griswold in the upcoming John Francis Daley Vacation reboot, set to hit theaters in October.
So there's no doubt the cast, all who have comedic roots of some sort, lays a solid foundation for How to be Single. Not being familiar with the source material, I'll have to wait until there's a trailer to judge it further. If it goes the way of Love Actually (which I think sets the bar for modern ensemble romantic comedies) it has a solid shot at leaving an impression on its audience and making a few bucks along the way.
How to be Single will also co-star Dan Stevens, Lily Collins and Tuesday Knight. The script was written by Abby Kohn, Marc Silverstein (original draft) and Dana Fox (current draft) and is based on the novel of the same name by Liz Tuccillo. Christian Ditter will direct the Drew Barrymore executive-produced film, which plans to start shooting in New York this April with a release around Valentine's Day of 2016.
Your Daily Blend of Entertainment News
Thank you for signing up to CinemaBlend. You will receive a verification email shortly.
There was a problem. Please refresh the page and try again.