Allison Janney Dancing Into Hairspray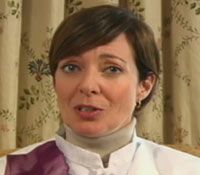 I can't remember having ever seen Allison Janney laugh, let alone sing and dance. But the four time Emmy winning actress, probably best known for her role on "The West Wing" has been cast in the new movie version of Hairspray, according to Variety.
She's being rushed off the "West Wing" set and straight into rehearsals for director Adam Shankman, where she'll play Prudy Pingleton, the overbearing mother of Amanda Bynes' Penny. The closest Janney's come to comedy before this was a straight role in Private Parts. Sure the movie was funny, but her character wasn't.
The cast of Hairspray is now officially stacked, with John Travolta, Queen Latifah, Christopher Walken, Amanda Bynes, Michelle Pfeiffer, and James Marsden already a lock. Yep, that's right. Stiff, awkward Cyclops is going to do the cha-cha. Hey, if Wolverine can do it, why not Cyc?
Your Daily Blend of Entertainment News