American Hustle Is Being Sued Over This Throwaway Line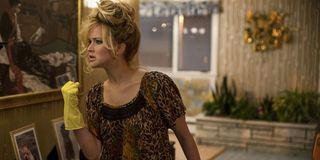 It's not unusual for Hollywood producers to face claims of libel, copyright infringement or defamation over their movies. Remember when the makers of Frozen were accused of ripping off a woman's life story? Yeah, nice try. Now in the land of Hollywood litigation, the white collars behind American Hustle are being sued by a well-known science writer over a contentious line uttered by Jennifer Lawrence's Jersey housewife character, Rosalyn, involving the "science oven."
In a complaint filed in Los Angeles Superior Court, Paul Brodeur petitions that by attributing him to a "scientifically unsupportable statement," the filmmakers have scorched his reputation in the scientific community like oh-so-many of Rosalyn's flame grilled easy dinners. "The scene from the movie American Hustle where the defamatory statement was made is highly offensive to a reasonable person," he states as the complaint seeks damages for libel, defamation, slander and false light. The amount of green he wants to tend his wounds? A cool $1 million, along with an order to remove his name from all copies of the film.
So what scene is he exactly talking about? Having blown up her latest "science oven" by warming up a foil-wrapped dinner, Rosalyn (Lawrence) tells her con artists husband Irving (Christian Bale) that microwaves take all the nutrition out of food anyway. She's basically doing him a favor! "That's bullshit," he replies, before she whips out a magazine and retorts, "It's not bullshit. I read it in an article. Look, by Paul Brodeur… Bring something into this house that's going to take all the nutrition out of our food and then light our house on fire. Thank god for me."
It was one of the film's most memorable comic moments, but in real life, Brodeur is a renowned science journalist -- and former scribe for The New Yorker -- who's written both books and articles on the dangers of microwave radiation. Surprisingly however, he firmly concludes there is no "known" danger in eating microwave-cooked food, which is why he's so angry about American Hustle contradicting his work.
This isn't the first time Brodeur has raised issues with his work being used as the butt of the America Hustle joke. Back in January, he wrote a letter to the Huffington Post stating that he's never argued "in any way that a microwave does any such thing" after the site included the scene among its 17 favourite movie moments of 2013. Brodeur also claims to have sent a "strongly worded letter" to American Hustle producers claiming they defamed him and damaged his reputation.
BUT -- I feel like this deserves an especially big BUT -- American Hustle is a movie that, despite being loosely inspired by the ABSCAM scandal of the 1970s, doesn't claim to be a true story. In fact, its opening title card blatantly reads, "Some of this actually happened," which will make any libel claim difficult to win as Yahoo Movies explains, they typically depend on the defendant presenting as true a statement that he or she knows or should know is false. Spokespersons for the defendants have still yet to comment on Brodeur's complaint, but do you think he has a good shot at getting a slice of the movie's $150 million taking?
Your Daily Blend of Entertainment News
Thank you for signing up to CinemaBlend. You will receive a verification email shortly.
There was a problem. Please refresh the page and try again.