American Reunion Green Band Trailer: Jim's Dad, Meet Stifler's Mom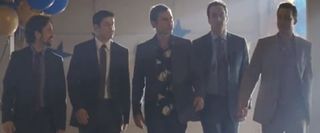 The American Pie movies really wouldn't feel right without a ton of raunchy jokes, gross jokes, and general moments of depravity that only fit in under an R-rating. And the first trailer for the upcoming American Reunion stuck with the red-band designation that shows off the movie's true colors, like a truly gross tube-sock trouble that only Jason Biggs's Jim could find himself in. But at some point you've got to be able to market this thing wider, and now a green-band trailer for the movie has emerged online that shows off a tamer-- but just slightly tamer-- side of the movie's antics. Check it out below.
For the first time we get a glimpse of what some of the characters are up to in their home lives, with Thomas Ian Nicholas's Kevin living in some McMansion with a wife who loves Real Housewives and Stifler, true to form, hitting on the women working with him in what appears to be a law office. But no matter what kind of legit lives they lead normally, when it comes time for reunion they're back to doing shots, hitting on high schoolers, and somehow wrapping Jim's dad in with all the mayhem. The bit at the end, where Stifler's mom comes on to Jim's dad, is only surprising in that the pairing didn't happen earlier in the series.
As a high schooler back when the first movie came out, I'm very much the target audience for this kind of nostalgia, and I plan to be there with bells on when the movie comes to theaters on April 6. And though you might not admit it, I get the feeling you might be right there with me. Anyone want to fees up to some American Pie love in the comments? Or are you totally immune to looking back on the good old days of 1999?
Your Daily Blend of Entertainment News
Staff Writer at CinemaBlend