American Sniper Just Broke Another Box Office Record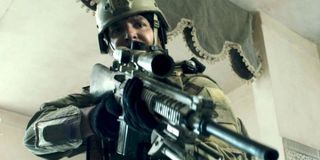 Despite its Golden Globes snub, Clint Eastwood's American Sniper continues to break box-office records, in addition to holding six Oscar nominations. While the 2015 Super Bowl dominated discussions this past weekend, people were apparently still heading out to theaters. What were most of them seeing? The film about the deadliest sniper in U.S. history.
Super Bowl weekend has proven to be pretty rough terrain for film releases to traverse, and most films released during this time earn the bulk of their box-office dough in between Friday and Saturday. On January 30, three small films — Project Almanac, Black or White and The Loft — debuted in theaters, while major titles avoided this slot like the plague. However, American Sniper still emerged victorious at the box office in light of this slump. In raking in $31.85 million, as reported by Deadline, the film has become the highest-grossing movie over Super Bowl weekend. If you can believe it, the last to hold this title was Hannah Montana & Miley Cyrus: Best Of Both Worlds Concert with $31.12 million.
Since debuting in limited release this past Christmas before receiving wider distribution on January 16, American Sniper has set a number of box-office records. It's the highest-grossing film to be released in January, which is known to be a graveyard of crappy films, and it's the highest-grossing Clint Eastwood movie of all time, which is followed closely by Gran Torino. Adding yet another victory to its still strong run is probably the biggest middle finger it could give to the Hollywood Foreign Press Association. Among all the various contenders who did not receive nominations from HFPA, the story of Chris Kyle was one of the bigger snubs and some worried this meant bad things for the Oscars. However, since getting a wide release, more people have been able to experience the film and it became one of the Oscar nominees to get the most nominations.
As more people see American Sniper, however, more people are throwing themselves into the on-going controversy. Not too long ago Michael Moore tweeted that snipers were "cowards," while simultaneously bashing the film for idolizing them. Then the always-controversial Sarah Palin stepped into the conversation with her "Fuc_ You Michael Moore" sign seen around the world. And former actor/pro-wrestler Jesse Ventura is still vocal about his disdain for Kyle. On top of all of this, the largest Arab-American civil rights organization in the country, the American-Arab Anti-Discrimination Committee, has noted a drastic rise in threats made towards Muslims and Arabs in light of the film.
While these complaints are taking the spotlight away from the film itself and the performances by its actors, it seems to be a contributing factor to American Sniper's still growing movie ticket sales. However, we're now in February and two long-delayed films, Seventh Son and Jupiter Ascending, will make there debuts, as well as the highly anticipated 50 Shades of Grey movie. So Eastwood and co. should take advantage of this box-office success while it lasts.
Your Daily Blend of Entertainment News
Thank you for signing up to CinemaBlend. You will receive a verification email shortly.
There was a problem. Please refresh the page and try again.