Amy Adams Reveals The Link Between American Hustle And Drop Dead Gorgeous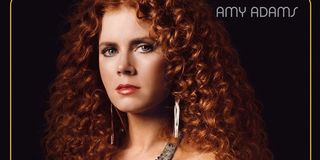 Sitting down with American Hustle's leading lady, there are plenty of questions I could have asked about ABSCAM, about what it was like reteaming with her The Fighter co-star Christian Bale, or if director David O. Russell's temperamental reputation is overblown.
But there are some moments in life you just have to embrace when given the chance, so after we talked about this '70s-set movie and its stunning and sexy costumes, I turned the topic to one of my personal favorites from Adams' filmography, Drop Dead Gorgeous. Much to my surprise (and delight), Adams indulged -- me and even came up with a pretty fascinating link that ties her Drop Dead Gorgeous character Leslie Miller to her American Hustle sultry schemer Sydney.
In case you somehow aren't one of the countless comedy fans who has seen Drop Dead Gorgeous, it's a mockumentary about a small-town teen beauty pageant, where the drive to win turns some to murder. Kirsten Dunst and Denise Richards starred as the pageant's frontrunners, while Allison Janney (who I had the pleasure to interview last summer) played a trailer park tramp who dolled out hilarious life lessons, and Adams played a dopey cheerleader who shows more skin than sense. Below you can see a compilation of Leslie's big moments:
"That was my first movie I ever made!" Adams shared. "Everything about that movie was just so surreal to me. That was the first time I realized like, 'I think I could go to Hollywood and at least get some commercials or something.'"
From there, I commented that Leslie would love the life of Sydney, and Adams was quick to jump on a connection between the two characters, who share a mysterious gap in their stories and a history in stripping. Without giving away too many details, Sydney (also called Edith in American Hustle) was once a stripper who decided to reinvent everything about herself. As you can see in the clip above, Leslie went into stripping and vanished. Adams ties it together:
I will not rest until I tie all movies to Drop Dead Gorgeous.
Speaking on the daring attire of American Hustle, Adams confessed that the costume designs have given her moments of concern. She trusted the vision of Russell and costume designer Michael Wilkinson, who not only dressed her here but also in Man of Steel. The pair showed her boards with the costume sketches, and she realized, "(Sydney) is going to be showing a lot, more than I've ever shown. But as I discovered it with Michael it was very much about where the character was and…it became a part of her con either on herself or on who she's working against. She began to use it as a sort of tool of manipulation."
She admitted there was one outfit that gave her some pause, but ultimately she decided, "We're in it! We're here now." So she buckled down, took her bra off and went for it!
"You know, once I was in Sydney's mindset," she explained, "I didn't ever really think about it. Which is a good thing and a bad thing. It's a good thing because you feel very free and you're just embracing it and I wasn't really thinking about what I was wearing or not wearing. But then you watch the film and you realized that you have relatives that are going to see this and that your daughter is going to see the poster on bus stops and stuff. And you're like, 'I'm still proud of the work' -- but you know what I mean? But I have to give a warning (to family)... The more insecure she feels, the less clothes she puts on. We know a lot of people like that in society, right?"
American Hustle opens nationwide Friday.
Staff writer at CinemaBlend.
Your Daily Blend of Entertainment News
Thank you for signing up to CinemaBlend. You will receive a verification email shortly.
There was a problem. Please refresh the page and try again.