Amy Winehouse Trailer Reveals First Heartbreaking Look At Tragic Singer's Story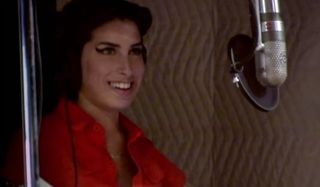 The first trailer for Amy, a documentary that depicts the tragic rise and fall of the sultry British singer Amy Winehouse has been released, and for anyone who's ever been affected or simply adored her music, it's an emotional one.
Truly heart-breaking stuff. Amy Winehouse is considered by many to have possessed the most iconic voice of her generation. Her deep and emotive tone could meander and wrap itself round a variety of genres without ever losing its power. Each new track that she released was devoured and fawned over, all the way up until her tragic death from alcohol poisoning on July 23, 2011 at the tender age of 27. Fans and music lovers from across the world will have the opportunity to relive Amy Winehouse's life and her profound talents with Amy, which comes from director Asif Kapadia.
Amy premiered at the 2015 Cannes Film Festival on May 16th, and early reviews for the documentary have been rather scintillating - and just from looking at the above trailer you can see why. It appears that Asif Kapadia has created a touching and emotional look at the six-time Grammy Award-winning singer's exploits, and looks to take an unflinching look at her talents, her struggles, her relationships, and her battle with fame and the press - all of which combined to lead her to her untimely demise.
Those of you who are aware of Kapadia's previous work won't be surprised to hear that he's examining Amy Winehouse in such a manner. The British director has been responsible for some of the most beautiful and thought-provoking films from the country over the last decade and a half. This has included 2001's The Warrior, 2006's The Return, and 2007's Far North.
But it was his intimate and pulsating foray into the documentary field with 2010's Senna that proved he had the nous and talent to excel and amalgamate a heart-wrenching and suspenseful tale using previously shot footage and interviews. Senna, which revolved around the career and death of the iconic Formula One driver Ayrton Senna, and Amy are set to touch upon some of the same issues and themes, such as the pressure and struggles of dealing with fame, talent and infamy.
Unfortunately, Amy has already been mired in controversy ahead of its release. Amy Winehouse's family has spoken out about the documentary, stating that they want to "disassociate themselves" from it because rather than celebrating her life and talent "it is both misleading and contains some basic untruths." Responding to the statement, the filmmakers involved insisted that after conducting over 100 interviews with "friends, family, former partners, and members of the music industry" that worked with Amy Winehouse they feel they've created a piece that reflects the findings from these discussions.
We can expect the drama and dispute to rage on before Amy is released in the UK on July 3, 2015. A U.S. release date is yet to be announced.
Your Daily Blend of Entertainment News