An Oscar For Best Stunts? Some Of Hollywood's Biggest Stars Are Pushing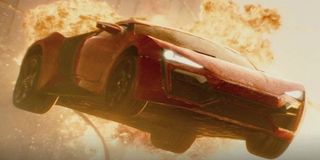 I'm sure we all have our issues with the Academy, whether it's how seemingly deserving films and directors get snubbed or how motion capture isn't a recognized Oscar category. But Jack Gill has been fighting for years to get his fellow stuntmen the recognition they deserve from the Academy, and now he has more backing from high-profile celebrities than ever before.
According to The L.A. Times, Gill speaks with and writes letters to the heads of the Academy of Motion Picture, Arts and Sciences every year in the hope that they will eventually recognize stunt work as a worthy category for the Oscars. Gill is a 40-year veteran of this sub-genre of moviemaking, and he's worked on films and TV shows like The Dukes of Hazzard, Knight Rider and Furious 7. Remember that scene when cars were dropped from a C-130 transport plane at 12,000 feet? Yeah, that was coordinated by Gill. Executing these daredevil feats for the thrill factor is no easy task, as proven by the titanium plate in his neck that's a mark of pride for all of his work. Unfortunately, his campaigning has been a losing battle.
However, he is constantly adding more celebrities to fuel his efforts. As of now, big-time names like Arnold Schwarzenegger, Brad Pitt, Steven Spielberg and Martin Scorsese are throwing their support behind Gill's efforts. The Times obtained a letter written by Johnny Depp to the Academy this week that expressed his desire to help recognize the men and women in this field and to create a Best Stunt Coordinator Oscar category. Elsewhere, Fast and Furious star Vin Diesel wrote an email to the Academy that called for the "long overdue" category for these people who have contributed creatively to developing these explosive and memorable action moments.
I mean, how do you not nominate this?
In the past few months, Gill was pretty positive he would achieve his goal. Dawn Hudson, the Academy's chief executive, and Cheryle Boone Isaacs, the Academy's President, both seemed to give him positive signs. Unfortunately, The Times reports that insiders are saying the board of governors, made up of 51 members, are not likely to address this agenda at their meeting this year.
If there's any positive news, it's that this issue is becoming more of a talked-about issue than when Gill started campaigning in 1991. More stunt coordinators, like Guy Norris, the man who worked on all those action-heavy scenes in Mad Max: Fury Road, are weighing in. According to him, there's been more talk about an Oscar stunt category in the past six months of this year than there has collectively been in the previous 10 years. There seems to be one excuse or another at any given time to deter Gill's efforts, but so far he has deflected each and every one of them.