Anchorman: The Legend Continues Teaser Poster Smells Of Rich Mahogany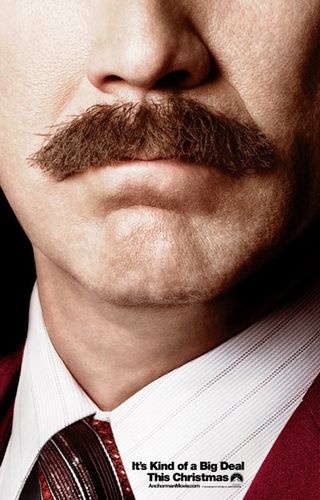 "I love scotch. Scotchy, scotch, scotch. Here it goes down, down into my belly."
"I'm very important. I have many leather-bound books and my apartment smells of rich mahogany."
"I'm in a glass case of emotion!"
There are so many Anchorman quotes that run through your brain with just a single glimpse of Ron Burgundy's rich, lustrous mustache. It's really all you need to get ridiculously excited for Anchorman: The Legend Continues, and it's here in glorious close-up for the movie's new teaser poster, which Paramount sent over this afternoon, along with a brand-new synopsis. You can check that out below as well:
That's all information we knew, of course, and doesn't reveal a lot of the plot points that have been hinted at in a bunch of set photos, from Champ Kind's chicken restaurant to ice skating to a whole ton of roles and cameos for the likes of Kristen Wiig, Harrison Ford and John C. Reilly. Given how many funny, famous people are either friends with the Anchorman cast or fans of the original, we can probably count on a lot lot more cameos from there.
But not that we want to know them all just now. Anchorman: The Legend Continues isn't coming out until December 20, and though it's impossible for it to be the kind of amazing surprise that the original was-- expectations are way too high for that-- the less we know about it, the better. Ron Burgundy's mustache is beckoning you back into theaters. Will you answer the call?
Staff Writer at CinemaBlend