Angelina Jolie's Inspiring Unbroken Trailer Will Electrify Your Day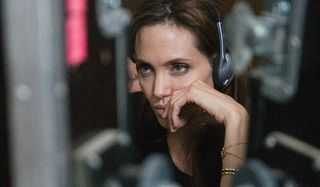 This Christmas, y'all are about to be Unbroken. This is Angelina Jolie's second directing effort, and it's attracting plenty of hot attention before its fourth quarter release this year. The new trailer is rousing, presenting the story of an Olympic hero who fought through impossible odds to represent his country.
Based on the Laura Hillenbrand book, Unbroken tells the story of the late Louie Zamperini, which the trailer seems to illustrate pretty well. This plays pretty thoroughly for a clip showcasing a film a full five months away. We see the young Zamperini, played by Jack O'Connell, winning races and earning plaudits. Then he goes off to war, being shot down and forced to survive in a raft. And then, he is "rescued" by Japanese soldiers. Hey, did we mention this was happening in World War II?
And so begins the story of a P.O.W. The trailer for, Unbroken emphasizes the unknown Jack O'Connell, a would-be future star, but the bigger names at the camp include Tron: Legacy hero Garrett Hedlund, and Not Fade Away star John Magaro. But the more you see of O'Connell in this clip, with his resolve tested, the more you want to see him. Angelina Jolie is clearly a serious-minded filmmaker, so at the very least this is crowd-pleasing Oscar-bait. But maybe it's something a little more special. Here's footage from Jolie's first film, the little-seen In The Land Of Blood And Honey.
The Unbroken pedigree is interesting. The script was written originally by William Nicholson (Gladiator, Everest), before ending up in the hands of Richard LaGravenese (Behind The Candelabra). Now, it's been re-written by the Coen Brothers, which is pretty interesting. It's hard to see how the Coens will bring their trademark ironic humor and fatalism into this film, but you're likely not going to see these splashes of color in an otherwise-straightforward war drama. The brothers rarely lend their voice to a film they didn't direct, but it actually happened this year: did you know the Coens-penned Gambit was released this year? Did anybody?
Unbroken hits screens on Christmas Day this year, among a crowded field of releases that includes Into The Woods, Selma, Paddington, Hot Tub Time Machine 2, Big Eyes and Cameron Crowe's untitled movie. And that's not counting Night At The Museum: Secret Of The Tomb, Annie and The Hobbit: Battle Of The Five Armies. Of course, only one of these is a war drama written by the Coens and directed by Angelina Jolie. Choose wisely!
Your Daily Blend of Entertainment News
Thank you for signing up to CinemaBlend. You will receive a verification email shortly.
There was a problem. Please refresh the page and try again.