Angelina Jolie's In The Land Of Blood And Honey Gets An Impressive Trailer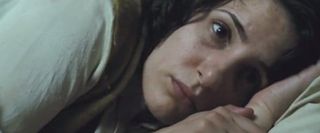 UPDATE: Our earlier posting of this trailer had an embed that had been removed. There's now a new embed there that actually works, so enjoy!
I challenge you to watch the trailer below and remember that it's directed and written by Angelina Jolie. Yes, her name is right there near the front so you'll keep your interest, but I promise it won't be the first thing on your mind by the time you get to the end. We don't yet know if the actress's directorial debut, In The Land of Blood and Honey, is actually good, but this first trailer makes a really strong argument to give it the benefit of the doubt. Check out the trailer below (via The Playlist) and we'll talk more after.
Though there's obviously a lot of battle scenes and the complicated fact that she's filming a movie in a country she's not from, in a way Jolie is starting simple, telling a basic love story against the backdrop of the Bosnian war. Then again, it's not simple at all-- In The Land of Blood and Honey is about a Bosnian Muslim woman who falls in love with her Serbian prison guard, such a controversial plot line that the movie was protested by local women's groups. But taking one look at the trailer, its elegant photography and sense of tone, seems to indicate this is much more than a sensationalistic romance with guns going off in the background. At first look, at least, Jolie seems to be really immersing herself in recreating this enormous, destructive ethnic conflict.
The film's release date has been uncertain for a while, but now FilmDistrict-- the people behind Drive and The Rum Diary-- have made plans to release it on December 23, which puts it squarely in the mix of Oscar season. Is Jolie releasing a late-breaking Best Picture contender? Or just a surprisingly good movie by an actress who's never directed before? Who knows yet, but I'm dying to find out.
Staff Writer at CinemaBlend
Your Daily Blend of Entertainment News
Thank you for signing up to CinemaBlend. You will receive a verification email shortly.
There was a problem. Please refresh the page and try again.