Angelina May Not Add Salt After All - Updated!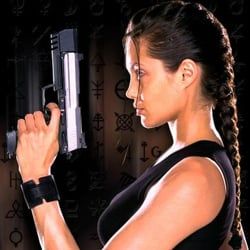 Angelina Jolie is the only woman in the world capable of playing a CIA agent. It's true! Jolie signed on recently to play the title agent in Edwin A. Salt-- a character that will get a name change, obviously--- but now she's considering bowing out since she's a mother of two newborn twins. And with Angelina gone, apparently, Edwin A. Salt simply must go back to being a man.
IGN claims a trusted source tells them that Angelina is bailing on the Phillip Noyce Project, saying that "Jolie's departure from Salt certainly seems likely." Apparently the studio is still committed to making the movie, which they plan to begin filming in February, but they'll have to put Edwin through another sex change to do it. A man-- probably Will Smith, let's face it-- will be approached for the role if Jolie drops out.
Really there's nothing to do here but just sigh in resignation. Yes, Angelina Jolie is the only female action star who has been proven at the box office. But does that have to mean that no other woman is capable of taking on the role? You know you would be more interested in this movie if Reese Witherspoon was somehow cast in the lead. What was a generic spy movie turned into an interesting one when they cast Angelina, and now if she leaves, it'll be generic again. So it goes.
UPDATE! There's new information from our friends over at Moviehole. They say there's no truth to the rumors that she's out of the project, they're merely still discussing it with her and trying to figure out a way to make it work for her. For more, click over to MH.
Your Daily Blend of Entertainment News
Staff Writer at CinemaBlend