Anna Kendrick, Sam Worthington Join Jennifer Aniston For Cake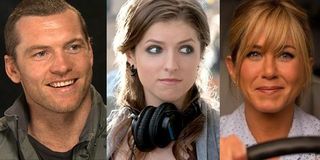 Who can say no to cake? Apparently not Jennifer Aniston. Following the massive success of her R-rated comedy We're The Millers, Aniston has signed on to headline and executive produce an indie dramedy called Cake. And she's bringing a bunch of friends on board for the ride.
What began as a Black List script with buzz is now an indie production with a dazzling ensemble. The Wrap reports Sam Worthington, Anna Kendrick, Chris Messina, Felicity Huffman (Desperate Housewives), William H. Macy (Shameless), Marianne Jean-Baptiste (Secrets & Lies), Britt Robertson (Delivery Man), Lucy Walters (The Brass Teapot), Camille Mana (Smart People), and Manuel Garcia Rulfo (Bless Me, Ultima) have all joined Cake's cast. THR adds that The Good Wife's Mamie Gummer, daughter of Meryl Streep, has also signed on.
Penned by Patrick Tobin (No Easy Way Out), Cake will center on Claire (Aniston), a bitter woman who is absorbed in her own pain until a member of her chronic pain support group commits suicide. Once Nina (Kendrick) kills herself, Claire becomes fixated on the young woman's life, and forms an unexpected but deep bond with Nina's widower (Worthington). Through working through Nina's tragedy, Claire is able to at last confront her own.
From this description, it might seem Kendrick's part will be small; however, Nina re-enters Cake's story as a ghost that appears to hassle Claire. Messina, who might be best known Mindy Kaling's cranky, dancing love interest on The Mindy Project, will play Claire's concerned ex-husband. Huffman will portray the leader of Claire and Nina's support group. Mana will take on the role of Claire's non-nonsense nurse, while Gummer will play her personal trainer, Bonnie. There's no word on who the rest of the cast is set to portray, but presumably some of them will fill up the support group.
In case you missed the dance number that launched a thousand crushes, check out Messina in action:
At present it's a bit tricky to anticipate what the tone of Cake will be. Aniston is best known for comedies like Friends, We're The Millers or Office Space. But she has dabbled in darker fare with The Good Girl and Derailed. A look over Cake director Daniel Barnz's filmography orders some clue.
Cake will mark Barnz's fourth feature film, following the troubled child drama Phoebe in Wonderland, the modern take on Beauty and the Beast called Beastly, and social change drama Won't Back Down which starred Viola Davis and Maggie Gyllenhaal as two moms determined to fix their failing inner city school system. Basically, his previous works have all been dramas with moments of levity. So we could reasonably assume the same for Cake.
With a lean budget of $7 to $10 million from the newly formed Cinelou Films, we can safely estimate that Cake won't be aiming for as broad as audiences as most of Aniston's recent features. But it could offer her an opportunity to show some dramatic range for the first time in a while.
Your Daily Blend of Entertainment News
Staff writer at CinemaBlend.