Anna Nicole Smith Biopic Cash In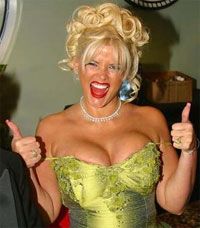 The publicity surrounding Anna Nicole Smith's death is a low water mark in American popular culture. In life, the woman was a punch line. Every time she tried to put herself back together, the media would knock the big-breasted humpty dumpty down again. It's a shame that ridiculing still happens in light of her death. Her son died and then she died, leaving a new born daughter without a family. It's a sad state of affairs that deserves the decency and humanity to let the family deal with the loss, without T.V. cameras jammed in their faces.
Of course, the exploit-factory known as Hollywood knows no limits and is planning on an Anna Nicole biopic starring dancer-singer Willa Ford and it's being produced by Jack and Joseph Nasser. Keoni Waxman will direct Anna Nicole, as, hopefully, the last cash in on a sad life and death, reports Variety
Anna Nicole will cover Smith's life from the age of 17 until her recent death. Smith's rise to fame as a Playboy centerfold, Guess Jeans model, actress and marriage to the decrepit billionaire oil tycoon J. Howard Marshall II will build up to her downward spiral of losing her son, her own death and, finally, the dispute over who is her daughter's father. Like you, I can't wait to relive all of that again.
Your Daily Blend of Entertainment News
Thank you for signing up to CinemaBlend. You will receive a verification email shortly.
There was a problem. Please refresh the page and try again.