Ant-Man Dodges Bullets In Latest Marvel Movie Poster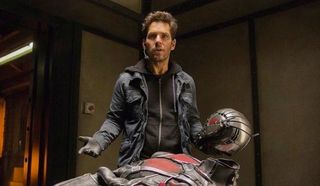 In all the hype surrounding Avengers: Age of Ultron, and there was a lot of it, and all of the focus on the now-in-production superhero extravaganza Captain America: Civil War, Ant-Man feels like the odd man out as it were in the Marvel Cinematic Universe. But it's only a hair over a month and a half away, and the studio is doing what it can to hype up the film, including releasing this badass new poster.
For the uninitiated, Ant-Man actually involves one of the founding members of the Avengers, at least in the comics, obviously not on the big screen—though we've seen photos of him on the set of Civil War, so it looks like he'll be coming into the larger fold of the MCU. Paul Rudd plays Scott Lang, a master thief who must help his mentor, Dr. Hank Pym (Michael Douglas), retrieve his latest invention before it falls into the wrong hands. See, Pym created a suit that allows the wearier to shrink down to the size of, you guessed it you clever bastard, an ant. Scott becomes Ant-Man, a small but mighty superhero who must pull of a heist that will save the world. No pressure or anything.
Along the way, Scott and Hank have to face off against the nefarious Darren Cross (Corey Stoll), who also winds up with his own alter ego, that of the super villain Yellowjacket. I can't wait to see the scenes of these to size-shifting characters shrinking down and running around, giving a different perspective on the world, which you definitely get a taste of in this poster. Those scenes with the two of them on the toy train from the trailer look like an especially good time.
We know that we're going to be seeing more of Ant-Man in future Marvel movies, but we're especially curious to see how he fits into Civil War. In the comics that serve as the source material, Ant-Man, specifically Hank Pym, plays a large part in the narrative. When the Superhero Registration Act comes down, forcing superheroes to reveal their identities and submit to government regulation, splitting the community into those who support it and those who oppose it, he's a big piece of the pro-registration camp. There are obviously going to be some major changes from the comics, with Scott Lang as Ant-Man, but it'll be interesting to see what role the character plays moving forward.
We're also curious to see how audiences respond to Ant-Man and how it performs at the box office. Around these parts we're pretty pumped for it, and Paul Rudd definitely fits into that snarky Marvel leading man mold that includes Robert Downey Jr.'s Tony Stark and Chris Pratt's Star-Lord. But compared to the massive onslaught of Age of Ultron marketing, the push for this one seems minor in comparison. Then again, we weren't sure how Guardians of the Galaxy was going to do, and that turned out pretty well. And who really cares, because it looks like a total blast.
Ant-Man hits theaters July 17.
Your Daily Blend of Entertainment News