Ant-Man Hires Two More Writers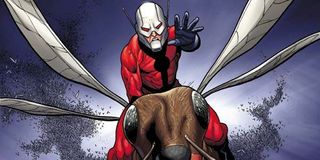 Oh, boy, Ant-Man , you're the gift that keeps on giving. Do movie writers like us keep reporting on Ant-Man because we want to see it? Or because it's become such a boondoggle for Marvel? Whatever the case, this movie is supposed to be filming now, and is still shape-shifting before our very eyes. And now we've got two more writers onboard the film, one that is going to test how much polite behind-the-scenes calamity that can befall a would-be blockbuster.
Latino Review claims that Marvel has called up Gabriel Ferrari and Andrew Barrer to re-write the Ant-Man script. This comes literally one month after it was announced that Adam McKay was re-writing a previous draft written by Edgar Wright and Joe Cornish, which was also apparently jabbed at by some anonymous scribes in the Marvel bullpen. Normally a writer's announcement means that the writing is already complete, and it shouldn't merit an over-reaction. But these guys are just now jumping onboard, and are expected to provide on-set revisions during the course of the film's production.
Ferrari and Barrer are still relatively untested scribes who had their script for Die In A Gunfight make it to the Black List. The strength of that script landed them the gig penning a big screen adaptation of Sabrina The Teenage Witch, which apparently impressed Marvel execs enough to give them a ring. No offense to Ferrari and Barrer, but you're going from nearly a decade of work by Wright and Cornish, to a month or two from McKay, to on-the-spot rewrites from two guys who haven't had a produced screenplay just yet. This is not how these sorts of things are supposed to work, Marvel.
Two things about this story stand out. Hiring writers to work during production is not unusual, and it happens all the time. But one, it usually doesn't happen on a big movie after this many years of development, and this many accomplished writers. And two, Marvel doesn't have the luxury of time, since Ant-Man is about one year away from hitting theaters.
Ant-Man theoretically hits theaters July 17th, 2015.
Your Daily Blend of Entertainment News
Thank you for signing up to CinemaBlend. You will receive a verification email shortly.
There was a problem. Please refresh the page and try again.