Anti-Abortion Movie Gosnell Will Be Directed By Justified Actor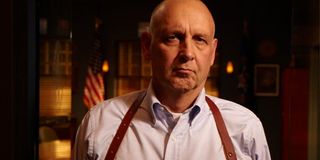 It appears that a potentially grim project about a notorious abortion doctor is now moving ahead due to the power of crowdfunding. The film, called Gosnell, will be a crime drama focusing on Kermit Gosnell, a Philadelphia abortion doctor who, for varied fees depending on the specific client, performed his service, regardless of the lateness of their terms -- including on, gruesomely enough, already delivered newborns. The project now moves forward with a director that may come across as a rather random choice: actor Nick Searcy from TV's Justified.
According to The Hollywood Reporter, Nick Searcy, who plays chief deputy U.S. Marshal Art Mullen on the FX series Justified, will fill the director's chair for this film, which was originally envisioned as a TV movie, but will now take the form of a proper theatrical feature. The project has managed to raise nearly $2.3 million on crowdfunding site Indiegogo. The underlying narrative from the film's producers -- Phelim McAleer, Ann McElhinney and Magdalena Segieda -- is that this is an important story that's generally been ignored by the 24-hour news cycle. In a statement, Searcy also echoes the sentiment in describing the project,
While the hot button subject of abortion will likely have potential moviegoers immediately defaulting to their various views, details of the actual case from which the film was inspired will probably be anything but divisive. However, the film's potential depiction of Gosnell's gruesome crimes may also run parallel to a narrative about the media's reluctance to cover the case. As Searcy states,
The film's subject, Kermit Gosnell, was accused of killing several newborn infants with scissors and then disposed of them, dismembered, in a ghastly fashion. He ran a clinic that was well-documented to be an unsanitary house of horrors with blood on the floor, non-sterile instruments, antiquated equipment and several jars of preserved fetuses, sometimes just containing body parts.
Gosnell was convicted in 2013 of three counts of murder after a lengthy process of appeals over a larger amount of charges. He is currently serving a life sentence in prison after charges for a specific infant's murder managed to stick. On top of that, he was also convicted of running an illegal prescription drug "pill mill" out of his clinic. This role as a disproportionate dispenser of drugs would also land him an involuntary manslaughter conviction for the death of a 41-year-old woman.
Consequently, any biographical story depicting this abhorrent situation will likely be a grisly drama depicting horrific, unconscionable real-life acts of butchery that transcend the traditional political powder keg pro-choice/pro-life debate over the subject of abortion, despite the fears of an anti-choice agenda that may surround the film. Yet, not much is known about how the film will attempt to approach the story, whether it be from the point of view of an investigator, a journalist or possibly Gosnell, himself.
Regardless, Gosnell appears to be just starting to take shape, with no casting, production plans or release dates set as of yet.
Your Daily Blend of Entertainment News
Your Daily Blend of Entertainment News
Thank you for signing up to CinemaBlend. You will receive a verification email shortly.
There was a problem. Please refresh the page and try again.