Apparently Nicolas Winding Refn's Wife Made A Documentary About The Only God Forgives Fiasco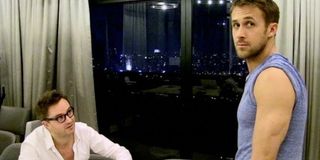 After the huge critcal success of 2011's Drive, director Nicolas Winding Refn and its star, Ryan Gosling, had the pick of any movie they wanted. They went with Only God Forgives, and audiences reacted poorly to their choice. Criticized for being self-indulgent, overly violent and failing to go beyond what the director-actor duo they had created with their previous collaboration, Only God Forgives was ravaged by critics and returned only $10.3 million at the box-office. But It turns out that making the eastern-noir-art house-crime-thriller wasn't exactly a picnic for its director either. And so, like any loving wife would do, Refn's spouse, Liv Corfixen, decided to film his toil for a documentary of her own. My Life Directed By Nicolas Winding Refn premiered at the Fantastic Festival over the weekend, and while it has been generally well received, the most interesting points that have emerged regard Refn's attempts to keep himself together during production.
So, what does Corfixen's documentary reveal? Well, according to IndieWire's review it doesn't make Refn look good at all. At first, the Danish filmmaker is seen as being "worried about repeating himself," (as any director surprisingly confronted by a hit-film is likely to be), while he also declares that he doesn't "want to be the Drive guy forever." Both of which are solid points. But it soon becomes obvious, as he paces between locations, throws tantrums on set and babbles "about his intentions back home," that Refn, who is described as being trapped by his own ambition, is struggling to deal with the pressures of following Drive. Kohn perfectly describes a particular set of sequences from the documentary that sum up Refn's strife during production:
Ultimately we learn that Refn's vision with Only God Forgives was to "challenge viewers with the antithesis to the crowd-pleasing aspects of his previous outings." But by the end of My Life Directed By Nicolas Winding Refn, even he admits that it just wasn't good enough - which is a rather harsh assessment. Even though it's meandering, graphically bloody and loosely plotted, there is still a lot to love about the film. It's just not for everyone.
For those of you who haven't seen Only God Forgives,or for those of you who have and want to be reminded of the film's divisive style and tone, you can check out its trailer on the next page:
Your Daily Blend of Entertainment News
Thank you for signing up to CinemaBlend. You will receive a verification email shortly.
There was a problem. Please refresh the page and try again.