Ashton Kutcher's Steve Jobs Biopic Delayed Indefinitely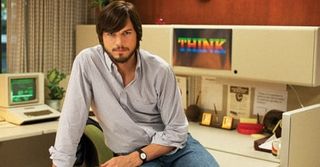 Is this the cinematic version of a hard reboot?
Joshua Michael Stern's Jobs, a biopic of the late Apple co-found Steve Jobs, was scheduled to open in theaters on April 19, opposite Tom Cruise's sci-fi blockbuster Oblivion. But THR now reports that Open Road Films is "pushing back" the film's release date, and that "a new date has yet to be determined."
The biopic has generated a decent amount of press thanks to Stern's decision to cast Two and a Half Men co-star Ashton Kutcher as the tech pioneer. At least the trade is saying that the delay is being implemented as a means of better marketing the film instead of putting the biopic under the knife of a cut-happy editor, because the movie – at this moment – is finished. It closed the Sundance Film Festival earlier this year, with our own Katey Rich saying in in her review that Jobs "tells us a lot about the genius of Steve Jobs, but doesn't show us much of anything that actually reveals it."
Then again the marketing excuse is pretty weak, given the fact that Open Road made more than enough time between Sundance and now to promote Jobs and the presence of Kutcher in a role that I'm sure he hopes changes the perception of his acting talents and possibly teases him for more substantial roles that Due, Where's My Car? and No Strings Attached. To get a sense of Kutcher's portrayal in the movie – which documents Jobs' climb to power in Apple – the studio shared a few clip, which you can watch below:
What does this shift mean for the rival Jobs movie, the one penned by Aaron Sorkin? Will the date shift create less of a gap between these existing projects? And does Kutcher want to be compared to the actor Sorkin eventually will recruit for his biopic? This movie creates a lot of questions about Jobs, which should be answered in the coming weeks, so stay tuned.
Movie junkie. Infatuated with comic-book films. ReelBlend cohost. Resident dad. Extroverted introvert. Wants to see the Snyder Cut. Managing Director at CinemaBlend.
Your Daily Blend of Entertainment News
Thank you for signing up to CinemaBlend. You will receive a verification email shortly.
There was a problem. Please refresh the page and try again.