August: Osage County Movie Finally Ready To Shoot This Fall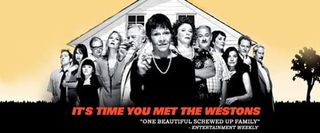 Not long after Tracy Letts' play August: Osage County won the Pulitzer Prize for Drama, the Weinstein Co., snatched up to the rights to adapt the three-and-a-half-hour epic about the darkly funny trials of a sprawling Oklahoma family into a feature film. Their first order of business was to contract the playwright to transform his Broadway production into something more filmic and moviegoer friendly (read: shorter, with less dialogue). 24 Frames has revealed that Letts has turned in his script, and while many playwrights turned screenwriters often need a collaborator to polish their draft into something shoot-worthy, an insider at the Weinstein Co. insist Letts draft is nearly ready to go into production. The question now is when.
That decision is almost entirely dependent on the two major stars August: Osage County has attached. The always in-demand Meryl Streep and Julia Roberts are set to play mother and daughter in the dramedy, or more specifically: Streep will portray prescription drug-addicted matriarch Violet Weston, while Roberts will take on the role of Barbara Fordham, a wife and mother driven to the brink by her teen daughter's rebellious antics and her husband's infidelities. Streep will be busy through Oscar season, doing press for her moody biopic The Iron Lady, while Roberts is about to shoot her part in a different movie adaptation of a heralded play, A Normal Heart. Simply put, this means that August: Osage County is presently looking to shoot this fall. And as one should expect from the Weinsteins, the film will be released the following fall, just in time for award-season buzz.
With a shoot date so close to set, news should soon emerge on who will fill out the rest of the Weston's twisted family tree. Your suggestions and predictions, as always, are welcome in the comments.
Staff writer at CinemaBlend.
Your Daily Blend of Entertainment News
Thank you for signing up to CinemaBlend. You will receive a verification email shortly.
There was a problem. Please refresh the page and try again.