The Avengers Assemble At New York Comic Con, And We're Liveblogging It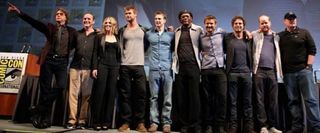 The final panel of the day at New York Comic Con is by far the most highly anticipated-- the Avengers are assembling in the IGN Theater, and I'm on hand for as much live-blogging action as a human can handle. Rumor has it that Clark Gregg, Cobie Smulders, Mark Ruffalo, Tom Hiddleston and Chris Evans will be in the house, along with Marvel president Kevin Feige, but who knows what other surprises might be in store. Keep an eye on the liveblog below, refresh as much as necessary, and let's see what they've got for us!
6:41 The panel was supposed to start at 6:30, but everything has been running late, and a scrum of people asking for autographs kept the Walking Dead cast onstage way too long. Come on, y'all-- let's get this done and get home for dinner.
6:52 Still nothing. An audience attempt to clap in unison and thus make them appear didn't work out. And weirdly, the name plates on the table where they'll all be sitting have been removed. I guess the presence of Kevin Feige is supposed to be top secret?
6:59 Nope, nothing yet-- we're officially running a half hour late. And the Tron: Legacy soundtrack remixes they've been playing all day are starting to burrow into my brain. Where is Agent Coulson to end this madness?
7:08 Finally, the lights dim and the moderator takes the podium! I was honestly getting worried a riot might break out before this thing started.
7:09 First out is Marvel president Kevin Feige, wearing his baseball hat as always. (He's the guy you see in the above photo on the far right). He's showing us this week's new trailer on the big screen.
7:12 I worry about how wrinkled Mark Ruffalo's suit jacket is in that trailer.
7:13 Time for the cast to take the stage. It's Clark Gregg, Cobie SMulders (wearing some killer format shorts), Tom Hiddleston, Chris Evans (who gets the hugest applause) and Mark Ruffalo (who I kinda expected to be at Occupy Wall Street, and who records the audience on his iPhone). Actually Clark Gregg has his iPhone out too. They're all apparently overwhelmed by this.
7:15 Feige talks about how they first started talking about an Avengers movie in 2006. He says Joss Whedon is in a dark editing room right now finishing the movie, but the whole audience cheers for him anyway.
7:16 The moderator confesses a man crush on Chris Evans, who seems amused.
7:16 "It's nice to share the load," he says of starring in a movie with a lot of other superheroes. He also says that they all got along ridiculously well, which y'know, is what they all say.
7:18 Tom Hiddleston gets the first cat call from a woman in the audience. I wonder if Chris Evans feels slighted.
7:19 For some reason the conversation is revolving around costumes. "I can't say I got a day in jeans and a T-shirt. It was mostly leather and metal." And yes, the women in the crowd go wild.
7:21 Its Cobie Smulders' first Comic Con. She seems, yes, super overwhelmed. "I feel like I had the easiest costume." I have no idea why we can't stop talking about costumes.
7:22 Smulders says she won't sing a Robin Sparkles song, and the audience actually boos her. Guess this is her last Comic Con too!
7:23 Clark Gregg gets a healthy amount of applause, which makes me proud. "I never thought that the journey would take me to the scenes in Iron Man 2 where they said 'Tell him you're going to New Mexico,' and say 'Why?' and they said 'Oh you're in Thor!" He also gives the fake spoiler that in The Avengers, Coulson peels back his face and reveals that he's Romulan princess.
7:25 Under duress, Gregg just sang his take on the Avengers theme song, which includes the line "We got muscles so bulky, and we got a Hulk-y." It was terrific. Video to come.
7:27 Ruffalo says that he and Edward Norton joke, "This is like my generation's Hamlet. We're all going to get a chance to play the part."
7:28 Ruffalo says he had to play homage to original takes on Hulk, "but then I had to Ruffalize it." Ruffalize!
7:28 Time for some Hulk footage!
7:34 They showed a whole lot more than Hulk footage-- it was an entire scene between Bruce Banner and Black Widow, in which she hunts him down where he's hiding out in.... India? I think it's India. She says that Nick Fury wants him back, and when Banner asks how they found him, she says "We never lost you." They banter back and forth about whether or not he'll return with her, and just when he threatens to get a little angry, she pulls out a gun before you'd believe it. He backs down, says he doesn't want trouble, and eventually she gives the message to "stand down," where we see a flock of like 30 armed assassins outside the shack. The scene is perfectly paced, just a little funny, and really nicely focused on the characters. It was all around fantastic-- if the rest of the movie can have that kind of pace and sense of itself, we're in really, really good shape.
7:37 But that wasn't all! It ended with a whole nuther trailer's worth of footage, cut around a conversation Tony Stark has with Loki, describing the group of people they've assembled and how he's managed to piss all of them off. There were action shots of everyone, including some that we've seen before in other trailers, and the same amount of Hulk-in-action that we saw in the trailer-- apparently they really are still working on those effects. It ends with a nice bit in which Tony Stark is needling Banner about how he keeps his anger under control. Captain America sternly steps in and asks "Is everything a joke to you?" Stark responds, "Funny things are." Perfect. Even funnier than how they end the trailer, if you ask me.
7:38 Strangely enough, still no sign of Cobie Smulders as Maria Hill in the footage. Where are they hiding her?
7:39 It's audience question time. As usual, it's not really getting much out of them-- though I do I appreciate that someone directly asked how long the movie will be. Of course, they have no idea.
7:41 They've been asked to name their favorite superheroes, and most everyone chooses themselves, but Hiddleston says "My brother's been left out of this, so my favorite superhero is Thor."
7:46 Chris Evans is very quiet so far. I speculate that he's hungover.
7:47 I had no idea Tom Hiddleston was the heartthrob of this bunch. He's gotten the most fluttery response from the audience by far.
7:47 "I think you'll look forward to the way Loki gets Ruffalized." I want this to become a real word starting this instant.
7:48 Ruffalo tries to avoid saying the word "helicarrier" until Kevin Feige tells him it's OK to say it. Even the Hulk doesn't now what counts as a spoiler.
7:49 Clark Gregg on arriving on the set of The Avengers: "It felt like the Make-A-Wish foundation."
7:50 Gregg again: "My favorite text I ever got in my life was from Chris Evans and it said simply, 'Assemble.' Albuquerque may never be the same after that night."
7:52 Hiddleston reveals the story of everyone being in the club dancing except Chris Evans, who was in a corner pestering Hemsworth for advice on how he gets his muscles so big. Hiddleston pulls out a perfect Australian accent to make fun of his onscreen brother. I guess he really does deserve the love of all these fans.
7:53 Breaking: Wolverine will probably not show up in Captain America 2. Just in case you were wondering.
7:56 Somehow Tom Hiddleston wound up singing a few bars of "Pure Imagination" from Willy Wonka. I might be so hungry that I'm hallucinating this.
7:57 A woman calls Tom Hiddleston "A beautiful, beautiful man." This is like Twilight-level mania here.
8:00 Finally someone manages to ask Kevin Feige a question. "We're in pre-production on a movie called Iron Man 3 right now. We've got a great director called Shane Black who's taking the reins. Iron Man 3 will be the first in what we're calling phase 2 that will hopefully results in an Avengers 2."
8:00 And that's it! Tom Hiddleston, please get home safe-- you've got a lot of crazy fans out there.
Staff Writer at CinemaBlend
Your Daily Blend of Entertainment News
Thank you for signing up to CinemaBlend. You will receive a verification email shortly.
There was a problem. Please refresh the page and try again.