The Avengers Villains Somewhat Clarified By Marvel Studios President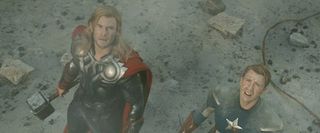 On the heels of the new cover images of Joss Whedon's Avengers heroes from Empire, a fan has managed to get their hands on a copy of the article and has copied some choice quotes from Marvel President Kevin Feige about the possible identity of the alien opponent Iron Man, Captin America, Thor, Hulk and the rest of the crew might be facing. It's relatively spoilerish, more for what he reveals you won't see in The Avengers come May, but just know that you might want to avoid the rest of this article if you'd like to be surprised by Whedon's ensemble adventure.
Still reading? So we know that in the movie Thor's brother, Loki (Tom Hiddleston), will attempt to destroy our planet, but reports have hinted at a larger foe. Speculation has run rampant, though someone named herolee10 tells ComingSoon that The Avengers will not assemble to face off against the Skrulls.
"I've been clear about that," Feige says in the Empire article. "Beyond that, we want to hide it. The identity of the alien race is not impactful. It exists in the comic books, but we're not setting up the Kree-Skrull war or anything like that."
Know who else won't be making an appearance in The Avengers? Cap's nemesis, Red Skull (Hugo Weaving). "He's not in this one," Feige confirms, though hedges bets on whether we'll see Red Skull in future installments. "Was Skull vaporized at the end of the movie, or thrust into another realm?" he ponders. "That remains to be seen. It would be fun to see Skull in future ..."
Can they continue to keep Avengers secrets? Possible, but unlikely. May 4 better get here quickly.
Movie junkie. Infatuated with comic-book films. ReelBlend cohost. Resident dad. Extroverted introvert. Wants to see the Snyder Cut. Managing Director at CinemaBlend.
Your Daily Blend of Entertainment News
Thank you for signing up to CinemaBlend. You will receive a verification email shortly.
There was a problem. Please refresh the page and try again.