Nic Cage Has A Weird Star Wars Opinion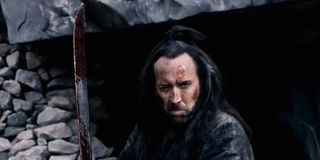 Nicolas Cage has come to be known as somewhat of a Hollywood eccentric over the years. This is mostly due to random claims like his hiring a voodoo priest to remove a curse from the set of the The Sorcerer's Apprentice (which the actor later confirmed was nothing more than a "gobbly gook" rumor) and his discussion of his practicing of the acting technique called "Nouveau Shamanic," which involves Afro-Caribbean face paint, vibrations and mind trickery. Well, Cage's latest headlines may not be that weird, but they will probably strike Star Wars fans as a bit odd, to say the least.
While out promoting his new film Outcast, in which he co-stars with Hayden Christensen, Cage had a few words to share about the "Prequel trilogy" actor's performance in the George Lucas films. While for year's Christensen has taken a verbal beating by fans for his acting in the films, it looks like the tide may finally be turning with Cage speaking up in defense of the young actor's rendition of Anakin Skywalker. Here's what Cage had to say:
This probably came as a bit of a welcome bit of praise to Christensen, who has received tons of backlash for his performance as Anakin Skywalker & Darth Vader in the later series of Lucas films. Not only did his performances win him the likes of two Golden Raspberry Awards for his work on both 2002's Star Wars Episode II: Attack of the Clones and 2005's Star Wars Episode III: Revenge of the Sith, but they also provoked fans to upload anti-Christensen compilation videos, featuring their most hated clips of the actor's scenes from the films, to YouTube.
I personally never found him to be all that bad, and on the contrary thought he actually displayed some pretty decent acting chops in the films, but, well... the internet can be a very dangerous place.
Cage's comments on the young actor come ahead of the release of their upcoming film Outcast, in which a mysterious warrior teams up with the children of a former Chinese Emperor to fight their vicious brother. The epic action/adventure flick was written by James Dormer (The Musketeers) and is the directorial debut of Nick Powell.
Outcast hits a limited release in theaters February 6.
Your Daily Blend of Entertainment News